Stocks-Morgan, Helen (2012) An Excavation on Medieval Remains On The Land behind 1a East Street, St Ives, Huntingdonshire. [Client Report] (Submitted)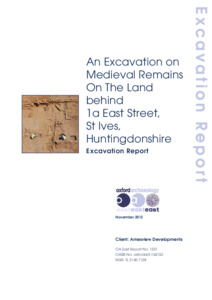 Preview
PDF




Report 1327_LR.pdf


Available under License Creative Commons Attribution Share Alike.
Download (1MB) | Preview
Abstract
An archaeological evaluation at the 1a East Street, St Ives in December 2011 revealed extensive archaeological deposits from the medieval and post medieval period. The evaluation was rapidly followed by an archaeological excavation that was completed in January 2012. This report addresses the findings of both investigations.
The site was located on land behind the main market square in St Ives and revealed well preserved archaeological deposits 0.9m below the modern ground surface. The earliest recorded activity on site was from Early Saxon period, attested by the retrieval of pottery.
There were three main phases of activity identified during the evaluation and excavation; The earliest phase, dating to the 12th-14th century, was characterised by the digging of several cess and rubbish pits, relating to the site position within the backyard of a tenement plot. Following the 14th century, a period of disuse is evident coincides with the Black death epidemic. Activity picks up again towards the Late 15th century where several inter-cutting ovens were constructed, which were shown to be used for making bread and small scale grain parching. The 16th -17th centuries and a return to the use as a backyard area, characterised by larger pits, for quarrying and rubbish disposal.
There is some evidence for quarrying to the north of the site after the 17th century, however activity does diminish, which coincides with the devastation of the town following a massive fire in 1689.
Actions (login required)