Atkins, Robert (2013) Medieval to modern remains at St Marys Field, Gamlingay. [Client Report] (Submitted)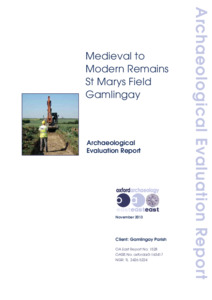 Preview
PDF




Report 1528_LR.pdf


Available under License Creative Commons Attribution Share Alike.
Download (1MB) | Preview
Abstract
Between the 25th and 27th of September 2013 Oxford Archaeology East conducted an archaeological evaluation on 1.25ha of land at St Marys Field, Gamlingay. The evaluation comprised seven trenches spaced across the site largely targeting possible geophysical anomalies, which in the main turned out to be natural in origin. Relatively sparse archaeological features, which dated to the medieval to modern periods, were found in five of the seven trenches.
Structural remains only lay within the far north-western part of the site, whereas the majority of the area had been fields in these periods. A single building was recorded in Trench 6, and it possibly dated from the 14th or 15th century and thus later medieval in date. It comprised a slot/sill beam structure with an external width of 4.9m ; one of the slots seems to have had a related post hole. The building is likely to have gone out of use in the 17th century. A 1601/2 map of the site shows that this structure was within a large courtyard of buildings belonging to Mertonage Manor.
Only a few medieval, post-medieval and modern features were present, comprising shallow ditches and pits, with most of the site being relatively clean devoid of archaeology Domestic-related artefacts were extremely rare with waste presumably having been deposited in nearby fields as manure scatters. Two large tile assemblages were found which related to the demolition remains of the former medieval building in Trench 6 and a post-medieval building destroyed at the end/turn of the 19th/20th century near to Trench 7.
Actions (login required)