OAU, OAU PARADISE STREET, OXFORD. FORMER TWA DEPOT, (PARADISE ST BUSINESS CENTRE) ARCHAEOLOGICAL EVALUATION JULY 1991. [Client Report] (Unpublished)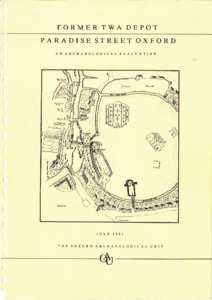 Preview
PDF




OXPAR91_PdfA.pdf


Download (2MB) | Preview
Abstract
An archaeological field evaluation in advance of
development at Paradise Street, Oxford, exposed two stonesided watercourses. One followed the line of the castle
ditch shown on 17th-century plans, the other veered away
from it obliquely as if providing a water supply to houses
on the the abutments ot the Swan Bridge. Beneath the silts
of the castLe ditch was a wattle-sided watercourse which
may have been on the midline of the medieval ditch. It is
conjectured that the water in the main ditch was flowing
towards a building shown in 1677 with two culverts opening
into the CastLe Mill Stream, and which may therefore have
housed the sluices which would be needed to control water
level, in the ditch.
Actions (login required)