de Turberville, Alison Navapan Hall 27 Holywell Street Oxford. [Client Report] (Unpublished)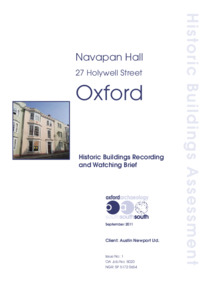 Preview
PDF




OX27HS11.pdf


Download (10MB) | Preview
Abstract
This report provides a record of the watching brief works carried out during the alterations to the accommodation at Navapan Hall, 27 Holywell Street for Harris Manchester College, Oxford. A photographic record of the building before the building works were carried out was also made. The architectural assessment was limited to areas where works were carried out although this has contributed to enhancing the overall understanding of the historic phasing of the building.
The name Holywell Street is taken from the nearby manor of Holywell, situated at the junction of Manor Road and St Cross Road. Holywell street itself is situated on land that was formerly part of the manor and owned by Merton College since the 13th century. Construction of houses on the street dates back to the 16th century and the layout was largely complete by the later 17th century. No. 27 Holywell Street has a long history of construction of extensions and outbuildings as well as alterations to the interior layout and its external appearance. The property has been owned by Harris Manchester College since the early 20th century and is used as student accommodation.
No. 27 Holywell Street has a long history of repairs and alterations necessitated by its continued occupation. Probably initially constructed of timber frame on stone foundations, the front elevation appears to have been rebuilt wholly in stone with occasional timber supports. A bay window has been added to the elevation although the remains of a possible earlier bay window were seen during the replacement of floor joists on the ground floor reception room. Initially detached, no. 27 now forms part of a terrace on the north side of the street. The infilling of a passageway to the east can be seen in the extension of floor joists on the first floor and the brick construction of the adjacent eastern wall. This work had certainly taken place by the mid 19th century as seen in the map of Oxford by Hoggar (1850).
Actions (login required)