Latham, Alexandra Land off Barton Road Headington Oxford. [Client Report] (Unpublished)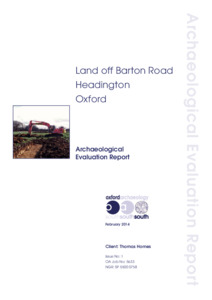 Preview
PDF




OXHBR13_report_pdfA.pdf


Download (10MB) | Preview

Preview
PDF




OXHBR 13 Land off Barton Road, Headington_A1b.pdf


Download (2MB) | Preview
Abstract
A four-trench evaluation was carried out on 9th and 10th October 2013 by Oxford
Archaeology (OA), on the site of a proposed residential development in the Urban
District of Headington. The development area is c 1.1 hectares in extent, lying
between the historic villages of Barton and Old Headington (Fig.1). The trenching
followed a geophysical survey which had not detected any obvious archaeological
features due to interference from numerous magnetic anomalies, probably caused
by modern disturbance and metal objects within the topsoil.
The evaluation was generally successful in establishing the low potential of the site
for significant archaeological discoveries. There was no indication of either Roman
or Anglo-Saxon activity, previous finds of these dates in the vicinity being the main
reason for undertaking the evaluation.
The land appears to have been part of the open fields of Headington during the
medieval and post-medieval periods, until Headington was enclosed in 1804, and
was still an arable field in 1921. In the 1920s and 1930s, as the surrounding fields
were developed as a suburb of Oxford, the site was used as an orchard, and by
1956 had been developed as a cricket ground.
Seven possible archaeological features were identified in the trenches, including
ditches, pits and possible postholes, five of which contained no artefacts and are
therefore of uncertain date. They are most likely to derive from the 20th century use
of the site. Several features investigated, particularly those in Trench 4, were found
to be shallow and irregular and were considered to be geological in origin.
Arfefact concentrations were found in two early 20th century refuse deposits, one
infilling a ditch or pit in Trench 3 (in the centre of the site), and one infilling a ditch in
Trench 1 (near the NW corner of the site). The artefacts present in these deposits in
general date from the late 19th and early 20th century, although one 13th-14th century
medieval pottery sherd and a few 18th century sherds were found incorporated
within these later contexts.
The ditches found in the trenches do not correspond with any boundary ditches
shown on historic maps of the site. They may be internal drainage ditches
associated with the early 20th century orchard.
Actions (login required)