Fletcher, Taleyna and Rees, Gareth (2012) An Iron Age and post-Medieval landscape at Grange Farm, Great Stukeley, Cambridgeshire. [Client Report] (Unpublished)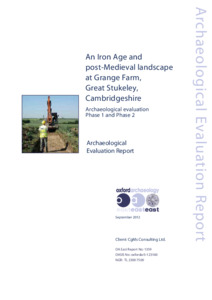 Preview
PDF




Report 1359_LR.pdf


Available under License Creative Commons Attribution Share Alike.
Download (1MB) | Preview
Abstract
Between 26th March and 10th April and 20th and 24th August 2012 Oxford Archaeology East conducted an archaeological evaluation on 80ha of arable land at Grange Farm, Great Stukeley, Cambridgeshire. Prior to evaluation a geophysical survey had been carried out by Durham University on behalf of the client which indicated the presence of ridge and furrow across the site as well as field boundaries and two sites of possible small settlement enclosures.
Phase 1 of the evaluation consisted of 31 machine excavated trenches ranging between 25m and 50m in length, all orientated roughly north to south. The orientation of the trenches was restricted as the fields were still being used for arable farming. Phase 2 of the evaluation consisted of 10 machine excavated trenches, all 40m in length and orientated east-west.
Trenching revealed the survival of a series of regularly spaced ditches, all approximately 0.70m wide and 0.20m deep, orientated north-west to south-east and north-east to south-west. The orientations are likely to relate to the subtle differences in the topographical landscape, aligned to aid drainage. These ditches were also encountered during previous investigations to the north of the site during 2000 where they were interpreted as Middle-Late Iron Age arable cultivation features. The ditches were noted in trenches across the whole site indicating large scale arable use, they were also identified on the geophysical survey and were thought to represent post-medieval ridge and furrow.. Despite thorough investigation and sampling, no dating evidence was retrieved from this phase of work.
The evaluation also identified a number of moderately sized boundary ditches, dated mostly from pottery evidence to the Middle and Late Iron Age. These ditches correspond to the geophysical survey and are thought to form part of two small settlement enclosures. It is possible that the extensive outlying fields with cultivation "strips" are associated. Whether or not they are contemporary would rely on more dating evidence being retrieved, however the location of these Middle-Late Iron Age sites fits in well with contemporary settlement sites excavated to the immediate south at the Ermine Business Park and to the north at Alconbury Airfield and have the potential to enhance our knowledge of the Middle-Late Iron Age landscape in this area.
Actions (login required)