Fletcher, Taleyna (2013) The Old Bakery Site, 97 The Green, Stotfold, Bedfordshire. [Client Report] (Unpublished)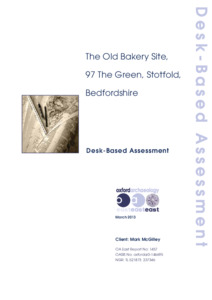 Preview
PDF




Report 1457_LR.pdf


Available under License Creative Commons Attribution Non-commercial Share Alike.
Download (4MB) | Preview
Abstract
In March 2013 Oxford Archaeology East (OA East) were commissioned by Mark McGilley to undertake a desk-based assessment for a former bakery site in Stotfold, Bedfordshire. The aim of this report is to assess the presence, nature and extent of any heritage assets likely to be affected by the proposed site development.
The site comprises a former bakery with associated buildings which are scheduled for demolition with a proposal for replacement with three new residential dwellings. The site is located on The Green, a historic part of Stotfold which is known to have been a focus of activity and occupation in the medieval period when the village was poly focal.
Cartographic sources were only available from the mid 19th century onwards, which indicate indicate that the site has had a range of buildings fronting onto The Green, opposite a recreation ground, which may have been common land. The mid 19th century maps depict long plots at the rear of this and other street-fronting properties on the Green which may be remnants of medieval burgage plots. The most recent buildings on the site, which form the bakery, first appear on maps from the mid 20th century.
A study of the Historic Environment Record which considers the distribution of known finds, listed buildings and archaeological investigations, indicates that the majority of archaeological interventions that have taken place in the southern part of Stotfold, produced remains predominantly from the Iron Age-Roman and Medieval periods. Given the poly focal development of Stotfold in the medieval period, it is considered likely that remains from the Saxon and medieval period are likely to be encountered as well as the possibility of post-medieval building remains and activity. There were a significant number of records which relate to 19th century activity within the search area, mostly generated from buildings which suggests an expansion of the town during this period which may have led to a loss of earlier structures and an impact on below-ground remains.
Assessment of the distribution of HER records in the vicinity of the site indicates that it has a moderate to high level of archaeological potential. There is low potential for deposits of prehistoric, Iron Age or Roman date but a moderate to high likelihood of encountering Saxon, medieval and post-medieval archaeology in the form of domestic occupation such as buildings, pits and ditches or small scale industrial activity. Modern building debris and levelling associated with the construction of the bakery is likely to be encountered and may also have impacted on earlier deposits.
Actions (login required)