Fletcher, Taleyna (2013) Archaeological and Geoarchaeological Investigations on Land north of Jerusalem Drove, Wardy Hill, Coveney, Cambridgeshire. [Client Report] (Unpublished)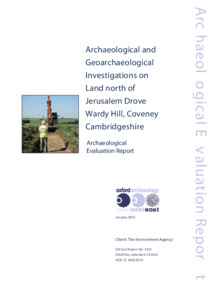 Preview
PDF




COVOUS12_1433_Draft_LRv2.pdf


Available under License Creative Commons Attribution Share Alike.
Download (4MB) | Preview
Abstract
Between 13th November and 14th December 2012 Oxford Archaeology East conducted an archaeological evaluation on 29ha of land at Wardy Hill in the parish of Coveney in East Cambridgeshire. Prior to evaluation a geophysical and aerial photographic survey were carried out on behalf of the client which had identified potentially surviving archaeological remains. In addition a programme of field walking was also undertaken on one of the five investigated fields which yielded post-medieval ceramics and two early Neolithic flint tools.
The archaeological investigations were carried out as part of the pre-planning process working closely with Cambridgeshire County Council's Historic Environment Team.
The work was commissioned by the Environment Agency as part of a a scheme to create a 200ha wet grassland habitat area in order to meet the ecological requirements for those species negatively affected by deterioration of the Ouse Washes. The works associated with this phase of the project will include the construction of a winter water storage reservoir capable of storing around 0.5million m³ of water together with associated pumping systems, feeder drains, field drains and infield foot drains.
The evaluation consisted of 45 machine excavated trenches across five fields. Most trenches were 100m in length.
Other than post medieval boundary ditches and a possible small ring ditch gully representing what is likely to be a broadly contemporary shelter, similar to a shieling, the archaeological evaluation did not identify any surviving significant remains.
The absence of features which corresponded with the geophysics plot can most likely be attributed to natural magnetic variations in the plough soil. If the anomalies had resulted from shallow archaeological features which were not visible during excavation, then the works would have expected to have encountered more finds during the sampling of the top and sub soil layers.
The absence of artefacts from a sampling of both top and subsoil layers as well as during the field-walking stage would support the suggestion that it is unlikely that there was ever any settlement on or nearby to the site which can probably be attributed its flat, isolated nature within the landscape as well as the wet soil conditions of the low-lying land.
Actions (login required)