Atkins, Robert (2013) Medieval settlement at 242 Main Road, Parson Drove, Nr. Wisbech, Cambridgeshire. [Client Report] (Unpublished)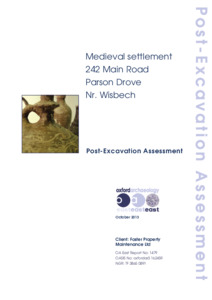 Preview
PDF




Report 1479_LR.pdf


Download (3MB) | Preview
Abstract
Between 21st May and 5th June 2013 OA East conducted a 40m² excavation on land at 242 Main Road, Parson Drove, near Wisbech (TF 3865 0891), in advance of a housing development. This work follows on from a previous evaluation at the site (Diffey 2013).
The archaeological excavations found two phases of medieval features dating from the mid-13th to 15th centuries AD. In the first phase the archaeological remains within the northern and central parts of the site comprised a fen circle and a number of pits. No structural features were found within Phase 1, but a few pits may have been domestic in origin and several features seem to have domestic type secondary deposits (such as fresh or relatively unabraded pottery groups, shells or some charred cereal remains). Presumably a house or houses had been located adjacent or close to the site. Most of the pits had an uncertain function, possibly for quarrying or soaking. The extreme southern part of the site appeared to be the edge of fields continuing further to the south.
In the 14th or early 15th century a rare one-bay domestic building was built over the area of the former fen circle. It comprised a c. 6m² structure formed by beamslots, with a c. 4m wide entranceway in the north-eastern corner, where three post holes were also located. A probable internal hearth was recorded within the structure. A few post holes directly to the north may relate to other building(s) such as barns. Several pits were identified across the rest of the site, which appeared to date to this second phase.
The artefact and ecofact assemblages from the medieval phases were small. The pottery included a new Toynton type pottery fabric, which has been provisionally labelled as 'North Cambridgeshire type'. Medieval brick fragments were found in most features and probably derived from Ely Cathedral's brickworks near Wisbech (the manorial landowners of Parson Drove). A secondary deposit of clay lining from one pit was the former remains of a domestic or industrial oven or hearth.
From the 15th century the site reverted to fields and this continued until the present day. In the 18th century a large drainage ditch was excavated across the extreme northern part of the site, parallel with the main road, which lies 20m to the north. A handful of modern pits were the only other features found within the boundaries of the excavation.
Actions (login required)