Bush, Louise (2013) Late Iron Age to Early Roman and Medieval Activity at Manor Farm, Pertenhall, Bedfordshire. [Client Report] (Unpublished)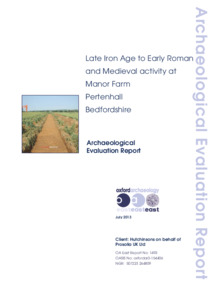 Preview
PDF




Eval Report 1493_LR.pdf


Available under License Creative Commons Attribution Share Alike.
Download (4MB) | Preview
Abstract
Between the 17th June and the 12th July 2013, Oxford Archaeology East carried out an archaeological evaluation on 38.5 hectares of land at Manor Farm, Pertenhall, Bedfordshire (507223, 264809) ahead of the construction of a solar farm.
Archaeological features were found across the site predominantly dating from the late Iron Age to early Roman periods. High levels of Saxo-Norman and Medieval activity was also encountered.
Two main focus areas were evident on the site. An area of late Iron Age activity was seen in the south-east corner of site (in Trenches 11, 12 and 14-16). Here a large boundary ditch was seen to enclose a number of smaller ditches and pits. The probable drip gully from three roundhouses with associated postholes was also identified within this area along with a potential oven. A fragment of pewter was recovered from a pit in Trench 11 and a copper alloy brooch was retrieved from a pit in Trench 12.
The most extensive area of activity was seen running just below the crest of the hill, mid way across the site. Several substantial ditches containing late Iron Age and early Roman pottery were identified in Trench 58. The most dense areas of archaeology were south and west of here, implying that the features in Trench 58 are potentially the settlements boundaries. A number of smaller enclosure ditches with associated pits and ovens can be seen across Trenches 61-64 and 72-75. Three roundhouses have also been revealed in trenches just off the crest of the hill on site (Trenches 71 and 94).
Features dating from the Medieval period dominated the trenches along the crest of the hill. An extensive area of cobbling was uncovered on the south-west side of site in Trench 81. A very large amount of unabraded medieval pottery was retrieved from this cobbled surface, implying the potential for some sort of courtyard activity. A further medieval cobbled surface with a ditch bounded up to it was seen in Trench 61.
The evidence for medieval activity continued in the form of a potential trackway across the site. A compacted surface covered with small rounded stones in was seen in Trench 82. From this location, a large number of sherds of Medieval pottery were also recovered. This trackway was also possibly identified in Trenches 56 and 57 to the north-east. It is viable to say that this is the remnant of the trackway seen on the 1879 OS map, which runs north-east through site from the approximate location of Keysoehill Farm (to the south-west), across to the old road on the north-east edge of site.
Overall, the archaeological evaluation at Manor Farm has revealed an extensive area of archaeological remains, showing that this area has been extensively occupied and utilised from the Iron Age right through to modern day.
Actions (login required)