Lee, Richard (2006) Hameldon Hill Wind Cluster, New Barn Farm, Burnley, Lancashire- Watching Brief. [Client Report] (Unpublished)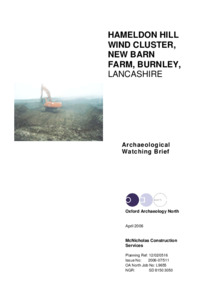 Preview
PDF




completereport1.pdf


Download (4MB) | Preview
Abstract
McNicholas Construction Services have submitted proposals to Lancashire County
Council Environment Directorate for the construction of a three-turbine wind farm at
Hameldon Hill, New Barn Farm, Burnley, Lancashire (Planning Reference
12/02/0516, NGR SD 8150 3050). Following a desk-based assessment of the site
undertaken by the Centre for Wetland Research (CWR 2002), Lancashire County
Archaeological Services (LCAS) requested that all groundworks associated with the
development should be the subject of an archaeological watching brief. These
groundworks comprised construction of an access road and the excavation of footings
and pads for the wind turbines themselves, but also for cranes to construct the turbines.
Following the submission of costs and a project design, OA North were commissioned
by McNicholas Construction Services to undertake the watching brief.
The watching brief, undertaken between February and March 2006, revealed no
evidence of discrete archaeological features or deposits in any of the proposed turbine
locations or beneath the route of the access road. However, a number of earthworks,
including banks, mounds and ridge and furrow were present within the field in which
the turbines were constructed and, in several instances, were transected by the access
road. Following consultation with LCAS and, in agreement with the client, these
earthworks were recorded by a rapid walkover and GPS survey in order to establish
their location and state of preservation and so inform future planning decisions on the
site. In total, eleven features were identified, including four banks, two areas of ridge
and furrow, a possible building platform, an enclosure, a mound and two embanked
depressions. The function of the latter three features could not be identified on the
basis of the current limited investigation, but it is likely that the banks represented
boundaries within a possibly medieval field system characterised by the ridge and
furrow.
Actions (login required)