Lee, Richard and Vannan, Alastair (2008) Plumpton Wastewater Treatment Works, Plumpton, Penrith, Cumbria- Rapid Desk-based Assessment and Evaluation. Project Report. OA North. (Unpublished)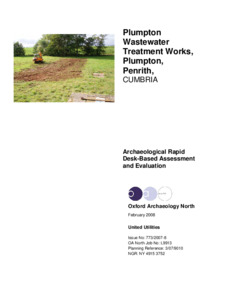 Preview
PDF




L9913_CompleteReport smaller.pdf


Download (1MB) | Preview
Abstract
United Utilities has submitted proposals (Planning reference 3/07/9010) for the construction of a wastewater treatment centre on an area of land to the north-west of Plumpton, Penrith, in Cumbria (NGR NY 4915 3752). The site lies within an area of archaeological potential, being in the vicinity of Romano-British sites, including Old Penrith Roman fort, and, following advice from Cumbria County Council's Historic Environment Service (CCCHES), Eden District Council requested that a programme of archaeological investigation should be undertaken to further inform the planning process. United Utilities commissioned Oxford Archaeology North (OA North) to undertake a rapid desk-based assessment and site visit, together with a programme of evaluation trenching, which was undertaken during September 2007.
The rapid desk-based assessment revealed that the 0.5km study area contained several Romano-British sites and a number of cropmarks that have not been closely dated; in addition, ten grade II listed buildings were also identified. None of these sites listed in the Cumbria Historic Environment Record (CHER) were within the proposed areas of development, although the potential for previously unknown sub-surface deposits of archaeological interest within the study area remained. With the exception of an embankment running along the eastern side of the field, within which the proposed wastewater treatment works will be built, the site visit did not identify any additional features of archaeological interest to those revealed by the rapid desk-based assessment.
The evaluation was undertaken in September 2007 and consisted of the excavation of four trial trenches that were positioned in order to examine the area of the proposed development. Whilst none of the trenches revealed any in-situ archaeological remains, a former river channel, likely to be an earlier course of the meandering River Peteril, which runs along the western boundary of the site, was observed in the southern part of the site of the proposed wastewater treatment works.
Actions (login required)