Taylor, Karl (2007) The Dye House, Hallthwaites, Millom, Cumbria- Watching Brief. Project Report. OA North. (Unpublished)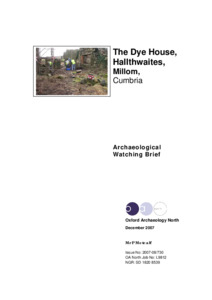 Preview
PDF




complete report.pdf


Download (2MB) | Preview
Abstract
This report outlines the results of an archaeological watching brief, which was carried out at The Dye House, Hallthwaites, Millom, Cumbria (SD 1820 8539). The Dye House is thought to be one of the earliest woollen manufacturing sites in the area dating to between 1771 and 1829. The building is to be redeveloped for residential purposes, and Cumbria County Council Historic Environment Service (CCCHES) specified that a watching brief should be undertaken during clearance of building debris from within and around the property. This follows a building investigation undertaken by Oxford Archaeology North (OA North) in 2005.
Clearance of the building debris revealed that two of the rooms (Rooms 4 and 6) were laid down to local cobbles (probably taken from the adjacent Black Beck) with no internal features visible. Two further rooms (Rooms 5 and 7) were laid down to flagstones of varying sizes, together with areas of brick and cobble patching and repair. It was clear that these rooms contained the most evidence for industrial processes within the complex. Two large sandstone blocks were buried into the floor within Room 5, which may have supported either a large item of equipment or a tank. Room 7 contained a semi-circular pit or tank, with a flagstone lid which may have been used for soaking or washing wool. A possible padstone was also recorded, which possibly supported a column relating to a roof truss.
In total, 68 finds were retrieved from the building debris, the majority of which was pottery dating the late nineteenth century. The most significant find was an oval stamped sheet label for an early washing machine 'Taylor and Wilsons Homewasher. Improved Patent. By Royal Letters Patent Dated 26 Feb 1868' which was found in Room 6.
Actions (login required)