Blythe, Kathryn (2011) Croasdale (Old) Bridge, Slaidburn, Lancashire- Fabric Survey Report. [Client Report] (Unpublished)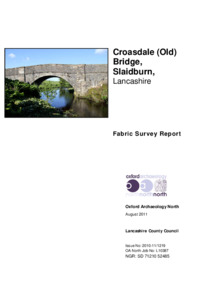 Preview
PDF




L10387_Fullrep_reduced.pdf


Download (5MB) | Preview
Abstract
The Grade II Listed (LB 183171) Old Bridge in Slaidburn (NGR SD 71210 52485) stands opposite Beckside Cottages, where Church Street crosses the Croasdale Brook and becomes the Skaithe. Listed Building Consent (3/2010/1028) has been granted to take down and reconstruct the west wingwall up to the cutwater; replace existing fill with a lightweight concrete; and repoint cracks and missing mortar in the east and west parapets of the bridge. OA North were commissioned to undertake a fabric survey and documentary study of the bridge.
The desk-based research comprised a search of both published and unpublished records held by Slaidburn Archive, the Record Offices in Wakefield and Preston, and the archives and library held at OA North. A fabric survey of the western elevation of the bridge was undertaken on 28th June 2011.
The survey identified four phases of construction. The earliest was a rib-arched bridge of 2.33m width; slabs were set between the ribs to form the arch. The only surviving elements of this bridge are a section of the bridge facing on the northern end of the eastern side. Phase 2 was a widening of the bridge to the west giving it an additional 2.47m width, and entailed the construction of a masonry barrel arch. Phase 3 entailed the construction of a cutwater (starling) against the western side of the northern bridge pillar. Phase 4 entailed the loss of the original eastern rib-arch in 1930, and its replacement with a concrete arch. This entailed considerable alteration to the fabric of the eastern bridge face and much of the spandrels for the primary arch were rebuilt with squared rubble.
The bridge has the potential to be of greater antiquity than the eighteenth century date indicated by the listing building record and the earliest documented date (Section 3.1.2). The original arch, on the eastern side was constructed with arched masonry ribs and with slabs set between the ribs. This was an early style of bridge construction that was superseded by the stronger and more substantial barrel-arch design, the ribbed arch is a common feature of medieval bridges but is rare in later periods.
Had the bridge not been so altered, it would possibly have been one of the more significant extant historic bridges in the county, but instead its significance relies largely upon the evidence of an engineers description and some poor early twentieth century photographs.
Actions (login required)