Hughes, Vix (2015) St Mary's Church, High Hesket, Cumbria - Watching Brief. [Client Report] (Unpublished)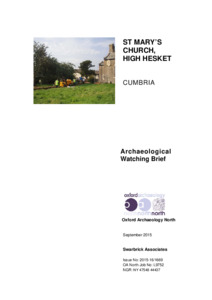 Preview
PDF




L9752_StMarysChurch_FullRep.pdf


Download (4MB) | Preview
Abstract
In September 2006, a watching brief was conducted during works for the installation of a new footpath and disabled toilet, at St Mary's church, High Hesket, Cumbria (NY
47548 44437). Oxford Archaeology North was contacted by Swarbrick Associates to undertake the work on behalf of the Rev Beth Smith. This work was undertaken in accordance with an outline brief from Swarbrick Associates. The work was completed on site on 11th September 2006, and involved observations made during the mechanical excavation of deposits within the churchyard, immediately south of the
church.
Two trenches were excavated under watching-brief conditions. Trench 1 was aligned north/south, and was over 30m long, 1.8m wide and was dug to a maximum depth of
0.95m at the southern end. This trench was excavated in advance of a new pathway between the church and the roadside, with a continuous gradient of about 1 in 45. The
results demonstrated three main stratigraphic units: the topsoil; a very mixed subsoil; and, at the base of the trench at the southern end only, the natural drift geology was revealed. Disarticulated human remains were retrieved from both the topsoil and the subsoil in this area. The subsoil showed evidence of disturbance from two main
sources, the mature trees along the western perimeter of the churchyard and some that may have been associated with the dismantlement and moving of headstones in the churchyard. These now form an informal wall along the southern part of the churchyard.
Trench 2 measured 2.8 x 2.5m and was dug to a maximum depth of 0.65m. The trench was placed immediately to the south of the present porch and west of the main body of the church. This trench was excavated to allow the construction of the disabled toilet and associated drainage. Below the topsoil, a segmented ceramic drain, probably of Victorian date, was uncovered along the western side. This cut a layer of mixed
subsoil which contained disarticulated human remains. The foundations of the church could be seen below the standing wall. These were of yellow sandstone blocks and
were stepped outwards to form a wider base for the wall to be built on. A small amount of the original church wall could be seen beneath the render and this was clearly also of regular, squared yellow sandstone blocks.
Finally, during the works, a large tree stump was removed from the churchyard. As expected, its roots had disturbed the area surrounding the tree, so little of significance
was revealed. All human remains have been returned to the church for reburial.
Actions (login required)