Clarke, Rachel (2009) Medieval and Later Saltworking and Channel Management at Walpole St Peter, Norfolk. [Client Report] (Unpublished)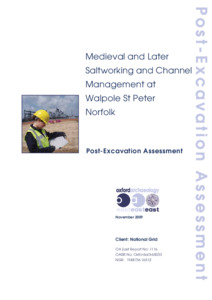 Preview
PDF




Report 1116_LR.pdf


Available under License Creative Commons Attribution Share Alike.
Download (2MB) | Preview
Abstract
Excavation in advance of an extension to the electricity substation at Walpole St Peter, Norfolk by Oxford Archaeology East investigated the remains of a possible medieval saltern identified by evaluation in 2008. The site of a second possible saltern mound was also subject to archaeological monitoring. The excavation and associated watching brief were commissioned and funded by National Grid.
Four phases of activity were identified spanning the pre-medieval to later post-medieval periods. The earliest levels comprise extensive layers of clays, silts and sands largely representing saltmarsh development post-dating the Iron Age and Roman periods. A sea bank was constructed to the east of the site during the Late Saxon period but the first definitive activity on the site dates to the medieval (13th to 14th centuries) period.
A notable feature was a large curving channel or creek that extended across much of the western and southern parts of the site. The earliest evidence of saltworking comprises a large rectangular tank, associated with which were at least two phases of revetment. The latter comprises a timber slot and a number of post-holes, designed to stabilise the inner 'working' bank of the channel. Following a possible period of abandonment further phases of revetment were constructed, which probably date to the mid-15th to ?17th centuries. Contemporary with these were several pits, tanks, troughs and channels that are likely to be associated with saltworking. The final phase of activity, in the form of pits, a probable filtration tank (containing remnants of turves) and a possible hearth, appears to date to the late 18th to 19th century. This, however, is at odds both with the known history of the site, which was enclosed and drained in 1789-90, and the documented decline of the industry in the late medieval period.
Although the finds assemblages from the site are of relatively small size, they are fairly typical of medieval saltworking sites and comprise a mixture of both domestic material and more industrial by-products. Pottery, animal bone, brick, fired clay and glassy slags form the main components, along with numerous lead offcuts and 'blobs', the latter probably related to the construction and repair of lead salt pans. Fragments of at least one schist whetstone were also recovered.
Despite the somewhat enigmatic and perhaps uncharacteristic remains, the features, deposits and associated finds appear to represent sporadic, low-level saltworking and channel management on the edge of the saltmarsh. Relatively few medieval salterns have been excavated or published within the region, and Norfolk in particular, making this site of increased local and regional significance. Recent projects such as the National Mapping Programme have identified the sites of numerous new potential medieval salterns in Norfolk, and analysis and publication of this site should contribute to this work by increasing understanding of the distribution, diversity and chronology of this important rural industry.
Item Type:
Client Report
Uncontrolled Keywords:
archaeological excavation, norfolk, walpole, salt making, medieval, post-medieval, pottery, CBM, slag, sea bank, industrial, sub-station
Subjects:
Geographical Areas > English Counties > Norfolk
Period > UK Periods > Medieval 1066 - 1540 AD
Period > UK Periods > Post Medieval 1540 - 1901 AD
Divisions:
Oxford Archaeology East
Depositing User:

Chris Faine

Date Deposited:
06 May 2016 12:28
Last Modified:
06 May 2016 12:28
URI:
http://eprints.oxfordarchaeology.com/id/eprint/2827
Actions (login required)