Stocks-Morgan, Helen (2014) Early Iron Age and Medieval Remains on Land at Zone A Housing, Beaulieu, Chelmsford. [Client Report] (Unpublished)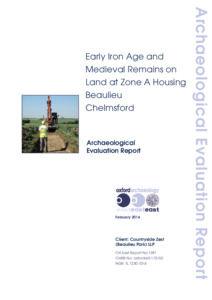 Preview
PDF




Report 1591_LR.pdf


Available under License Creative Commons Attribution Share Alike.
Download (483kB) | Preview
Abstract
An archaeological evaluation was carried out at Zone A, Beaulieu, Chelmsford. The fieldwork took place between the 6/2/14 and the 18/2/14. A total of forty trenches were excavated across two separate fields, within the proposed development area.
The earliest occupation evidence on site appears to date to the Early Iron Age and comprises of surface finds and finds within the upper fills of an earlier ditched enclosure in the north-west of the development site. A rectilinear field system, on a north to south alignment, extends across the development area and is tentatively dated to the Late Iron Age.
A discrete concentration of Prehistoric activity is evident in the south-east of the site, represented by a two charcoal-rich pits.
Medieval activity is mainly concentrated in the north-west of the site, with features possibly suggesting to the presence of a farmstead. A further rectilinear field system, on a north-west to south-east alignment, was recorded to the south of the site.
Actions (login required)