Pickstone, Alexandra and Mortimer, Richard (2011) The Archaeology of Brigg's Farm, Prior's Fen, Thorney, Peterborough. [Client Report] (Unpublished)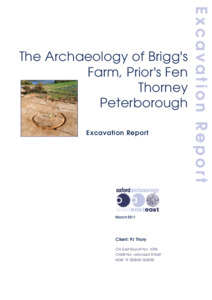 Preview
PDF




Report_1094_TEXT.pdf


Available under License Creative Commons Attribution Share Alike.
Download (3MB) | Preview
Abstract
An open area excavation of c.11ha was carried out at Brigg's Farm, Thorney
between August and December 2008 by Oxford Archaeology East. The site
was located in an archaeologically significant area, particularly for the Bronze
Age, with the excavations at Fengate, Bradley Fen, Must Farm, Eye Quarry,
Tower's Fen and Pode Hole all within a few kilometres. The site lay on the
northern side of a fenland embayment between Thorney and Northey islands;
the land within the excavations rises from 0.3m OD at the south-west to 2.3m
OD at the north.
The excavation produced features and assemblages dating from the Neolithic
through to the Middle Iron Age. An intensive system of Post-Medieval claying
or marl ditches covered the entire site.
Neolithic occupation evidence was present in the form of flint scatters, small
pits and finds within tree throws. A small number of Beaker pits were also
present. Early Bronze Age remains were more extensive and included
Collared Urn pits and a small barrow which contained a sequence of burials -
an inhumation and three cremations (five individuals in total) - dating to
between 2000 and 1750 cal BC. Three further isolated cremations burials
included one placed within a large Collared Urn.
An extensive Middle Bronze Age ditched and banked field system dating to c.
1550-1450 BC and typical of this area, was set out with reference to
topographical influences as well as to earlier monuments. There is some
evidence for pre-settlement activity within the field system, dated to c. 1500-
1400 cal BC. A later (c. 1400-1300 cal BC), large and deep-ditched
rectangular enclosure was constructed within the field system in the northeastern
corner of the site. A number of cattle skulls were placed in the end of
one of the enclosure's ditches near to its entrance
Twelve field wells were excavated, seven of which were radiocarbon and
which spanned the entire Middle Bronze Age period from c. 1600 to 1200 cal
BC. Their basal fills contained waterlogged environmental remains and pollen
and were extensively sampled; two contained log ladders, of hazel and maple,
the former, with six steps, is the largest yet found of this date in an English
context. A large, mortised timber was recovered from another well.
A Middle Bronze Age settlement area occupied the higher ground at the
northern limits of the site and has been dated to c. 1400-1250 cal BC. The
settlement was set within purpose-built ditched enclosures and comprised at
least six post-built structures and a small number of pits. A large assemblage
of animal bone (principally cattle), Deverel-Rimbury pottery, clay weights and
briquetage associated with salt making were recovered from three main
locations across the site. The briquetage assemblage may be the earliest in
the country.
There was some slight evidence of a Later Bronze Age presence within the
area and two large undated roundhouses with mid-late Iron Age characteristics
were located within the Middle Bronze Age settlement area.
Item Type:
Client Report
Additional Information:
Volume one containing text of report, volume two contains figures
Uncontrolled Keywords:
archaeological evacavation, peterborough, thorney, neolithic, bronze age, beaker, beaker pit, pottery, volume 1, collared urn, middle iron age, barrow, inhumation, cremation, burial, middle bronze age, middle bronze age field system, deverel-rimbury pottery, enclosure
Subjects:
Geographical Areas > English Counties > Cambridgeshire
Period > UK Periods > Bronze Age 2500 - 700 BC
Period > UK Periods > Bronze Age 2500 - 700 BC > Early Bronze Age 2500 - 1500 BC
Period > UK Periods > Iron Age 800 BC - 43 AD
Period > UK Periods > Bronze Age 2500 - 700 BC > Late Bronze Age 1000 - 700 BC
Period > UK Periods > Bronze Age 2500 - 700 BC > Middle Bronze Age 1600 - 1,000 BC
Period > UK Periods > Iron Age 800 BC - 43 AD > Middle Iron Age 400 - 100 BC
Period > UK Periods > Neolithic 4000 - 2200 BC
Period > UK Periods > Post Medieval 1540 - 1901 AD
Divisions:
Oxford Archaeology East
Depositing User:

Chris Faine

Date Deposited:
12 Oct 2016 11:56
Last Modified:
12 Oct 2016 11:56
URI:
http://eprints.oxfordarchaeology.com/id/eprint/2927
Actions (login required)