Score, Dave Marine Wharf (West)Deptford London. [Client Report] (Unpublished)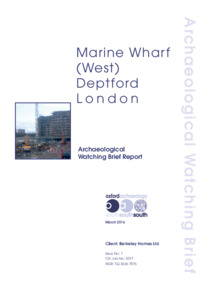 Preview
PDF




MWH11_pdfA.pdf


Download (2MB) | Preview
Abstract
Between November 2011 and July 2015 monitoring of ground works was
undertaken by OA on the seven successive phases of the development at Marine
Wharf, Deptford. There was no major bulk excavation of significant deposits and
monitored works included pile cap excavations, lift pits, crane bases, attenuation
tanks and service trenches.
The presence across the site of a substantial depth of modern made ground was
confirmed and with one exception all of the excavations were within this made
ground and had no impact on natural deposits or deposits with potential to contain
archaeology.
The one exception was a deep excavation for an attenuation tank in the north east
part of the site where in this location modern made ground / dump deposits
extended to a depth of 4.5m below current ground level where at 0.5m AOD alluvial
deposits were seen. No archaeology was present. This served to confirm at least in
this location the significant previous truncation which has taken place.
Actions (login required)