Cox, Nicholas (2017) Land North of 66-100 Thrapston Road, Brampton, Cambridgeshire. [Client Report] (Unpublished)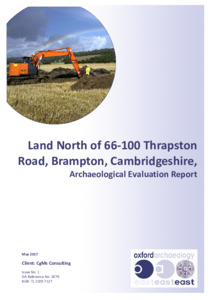 Preview
PDF




Report_2079_BRATRD17_MR.pdf


Available under License Creative Commons Attribution Share Alike.
Download (6MB) | Preview
Abstract
Between the 24th of April and 3rd of May 2017 Oxford Archaeology East carried out an archaeological evaluation on land to the north of 66-100 Thrapston Road, Brampton, Cambridgeshire (TL 2109 7127).
A total of six 30m trial trenches were excavated to target features identified by geophysical survey. The findings in Trenches 4 and 5 confirmed the presence of a ring ditch identified in the geophysics, possibly a ploughed out Bronze Age barrow measuring 27m in diameter; no dating was recovered from the ditch itself. Early Roman and undated ditches were identified in the area around the ring ditch.
In the western half of the site there was a concentration of ditches in Trenches 1 and 2. The majority of ditches in Trench 1 contained handmade Middle Iron Age-type ceramics including Scored Wares of the East Midlands tradition. A large ditch in Trench 2 was dated as Early Roman.
Item Type:
Client Report
Uncontrolled Keywords:
archaeological evaluation, cambridgeshire, huntingdonshire, brampton, roman, iron age, middle iron age, bronze age, ring ditch, ditch, pottery, iron age pottery, scored ware
Subjects:
Geographical Areas > English Counties > Cambridgeshire
Period > UK Periods > Bronze Age 2500 - 700 BC
Period > UK Periods > Iron Age 800 BC - 43 AD
Period > UK Periods > Iron Age 800 BC - 43 AD > Middle Iron Age 400 - 100 BC
Period > UK Periods > Roman 43 - 410 AD
Divisions:
Oxford Archaeology East
Depositing User:

Chris Faine

Date Deposited:
30 Jun 2017 10:18
Last Modified:
30 Jun 2017 10:18
URI:
http://eprints.oxfordarchaeology.com/id/eprint/3253
Actions (login required)