Tsybaeva, Daria (2017) Land west of Saham Road, Watton, Norfolk. [Client Report] (Unpublished)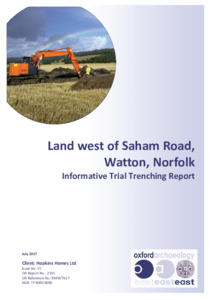 Preview
PDF




Report 2105_LR.pdf


Available under License Creative Commons Attribution Share Alike.
Download (7MB) | Preview
Abstract
Between 19th and 21st of June 2017, Oxford Archaeology East (OA East) conducted a programme of informative trial trenching on land west of Saham Road, Watton, Norfolk (TF 9090 0090). Ten evaluation trenches were excavated, each 30m in length. Four of the trenches revealed archaeological features comprising a series of ditches and gullies, a pond feature, a post hole, modern pit and four tree-throws.
The ditches are interpreted as pre-19th century field boundaries, and are not depicted on any historic maps. Whilst none yielded finds or any dating evidence, their alignment in respect to Swaffham Road and Saham Road to the west and east suggests they are former plot divisions, of possibly late medieval or early post-medieval origin.
Towards the centre of the site, tree-throws uncovered in one trench correspond with a former field boundary depicted on the 1848 Tithe map, whilst at the southern end of the site, a waterhole yielded 19th century pottery. Combined, the features attest to the agricultural history of the site.
Actions (login required)