Graham, Steven and Moan, Patrick (2017) Land South-West of Mill Cottage, Gidding Road, Sawtry, Cambridgeshire. [Client Report] (Unpublished)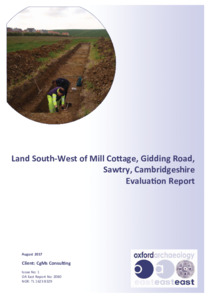 Preview
PDF




SWTGIR17_report2080_FINAL._LR.pdf


Available under License Creative Commons Attribution Share Alike.
Download (6MB) | Preview
Abstract
Between the 24th April and 4th May 2017, Oxford Archaeology East (OA East) conducted an archaeological evaluation at land south-west of Mill Cottage, Gidding Road, Sawtry (centred TL 1623 8329). Previous archaeological work carried out to the north and west of the site have identified enclosures and field systems dating to the later Iron Age and Early Roman periods.
A total of 36 evaluation trenches totalling 1800 linear metres were excavated, targeting geophysical anomalies across the site, 24 of which contained ditches and pits. Whilst the southern half of the site contained furrows, modern boundary ditches and field drains, field systems and enclosures dating to the later Iron Age and continuing through into the Early Roman period were found in the northern half of the development area, following the higher ground and better drained geology.
In general, the evaluation results correspond well with the anomalies shown on the geophysical survey. This evidence, combined with features identified by previous excavations and geophysical surveys to the east and north of the site, indicates the presence of an extensive later Iron Age and Early Roman settlement in this location.
Item Type:
Client Report
Uncontrolled Keywords:
archaeological evaluation, cambridgeshire, huntingdonshire, sawtry, roman, iron age, late iron age, lia, erb, pottery, field system, enclosure, furrow, coin, edward III, settlement
Subjects:
Geographical Areas > English Counties > Cambridgeshire
Period > UK Periods > Iron Age 800 BC - 43 AD
Period > UK Periods > Iron Age 800 BC - 43 AD > Late Iron Age 100 BC - 43 AD
Period > UK Periods > Post Medieval 1540 - 1901 AD
Period > UK Periods > Roman 43 - 410 AD
Divisions:
Oxford Archaeology East
Depositing User:

Chris Faine

Date Deposited:
20 Sep 2017 15:29
Last Modified:
20 Sep 2017 15:29
URI:
http://eprints.oxfordarchaeology.com/id/eprint/3294
Actions (login required)