Stocks-Morgan, Helen (2017) Multi Period Remains at Zone G (Site 10), Beaulieu, Chelmsford: PXA and UPD. [Client Report] (Unpublished)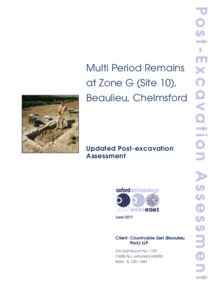 Preview
PDF




Report 1787_LR.pdf


Available under License Creative Commons Attribution Share Alike.
Download (3MB) | Preview
Abstract
Oxford Archaeology East carried out an open area excavation within Zone G (Site 10), Beaulieu, Chelmsford ahead of the proposed development of residential housing. The works were carried out between the 7/4/15 and 15/05/15.
A 14th/15th century pit was encountered, along with an associated ditch. This pit is provisionally interpreted as a retting pit due its characteristics and the recovery of flax stems and nettle seeds from its waterlogged deposits.
An early post-medieval ditched enclosure was also revealed, surrounding a 16th century building represented by the remains of two brick-built fireplaces and a possible brick-built staircase. Two further brick-built ancillary structures were also evident, comprising a cellar and a probable latrine block.
The main building went out of use in the early to mid 17th century when the land reverted to agriculture. Post-medieval remains were represented by a single field boundary ditch.
In August 2016, OA East carried out a further excavation on land west of Site 10 ahead of the construction of haulage road 2b. This excavation revealed what appears to have been the western extent of the early post-medieval ditched enclosure and possible demolition waste from the adjacent buildings.
Item Type:
Client Report
Uncontrolled Keywords:
archaeological excavation, essex, chelmsford, beaulieu park, medieval, post-medieval, pottery, iron age, structure, fireplace, staircase, cellar, latrine, 16th century, 17th century, comb, enclosure, bead
Subjects:
Geographical Areas > English Counties > Essex
Period > UK Periods > Iron Age 800 BC - 43 AD > Early Iron Age 800 - 400 BC
Period > UK Periods > Iron Age 800 BC - 43 AD
Period > UK Periods > Medieval 1066 - 1540 AD
Period > UK Periods > Post Medieval 1540 - 1901 AD
Divisions:
Oxford Archaeology East
Depositing User:

Chris Faine

Date Deposited:
10 Nov 2017 12:06
Last Modified:
10 Nov 2017 12:06
URI:
http://eprints.oxfordarchaeology.com/id/eprint/3365
Actions (login required)