Webster, Michael (2016) Land at Latton Farm, Harlow Essex. [Client Report] (Unpublished)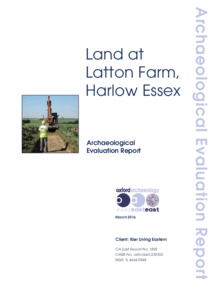 Preview
PDF




Report 1892_LR.pdf


Available under License Creative Commons Attribution Share Alike.
Download (2MB) | Preview
Abstract
Between the 25th January and the 4th February, Oxford Archaeology East conducted an archaeological evaluation on land at Latton Farm, Harlow, Essex (TL 4654 0948). Forty-seven trenches were excavated within the proposed development area, prior to the construction of a pavilion, pitches, car parking and associated landscaping for a Rugby club.
A few possible Neolithic flints are evidence that the site was subject to occasional visits during that period and one feature (in Trench 23) may be of contemporary date. Trench 23 is also the focus for activity during the Early Iron Age as shown by the presence of pottery associated with several pits and a pit containing the remains of a cremation, possibly also of Iron Age date demonstrating that some localised funerary activity is present here. Trench 11 some 150m to the west of Trench 23 may also have been a focus of Early Iron Age activity as demonstrated by the presence of pottery associated with a large pit-like feature, possibly a pond.
In Trench 40, a possible fire pit or oven associated with a ditch and gravel surface are likely to be medieval or early post-medieval in date.
Two large boundary ditches date to the late medieval to post-medieval period, one of which formed the continuation of a boundary shown on the 1st Edition Ordnance Survey map.
A series of agricultural drainage ditches, were undated, but are probably post- medieval in date. A low lying part of the site, within a natural valley, contained modern material, and a culvert had been inserted possibly to assist with drainage for modern development.
A series of anomalies shown on the geophysics plot, in the south-east corner of the site, were shown to be the remains of recent field drains which were modern in date.
Item Type:
Client Report
Uncontrolled Keywords:
archaeological evaluation, essex, harlow, cremation, unurned, iron age, early iron age, late iron age, medieval, post-medieval, post medieval, pottery, cbm, brick, tile, culvert, pond
Subjects:
Geographical Areas > English Counties > Essex
Period > UK Periods > Iron Age 800 BC - 43 AD > Early Iron Age 800 - 400 BC
Period > UK Periods > Iron Age 800 BC - 43 AD
Period > UK Periods > Iron Age 800 BC - 43 AD > Late Iron Age 100 BC - 43 AD
Period > UK Periods > Medieval 1066 - 1540 AD
Period > UK Periods > Neolithic 4000 - 2200 BC
Period > UK Periods > Post Medieval 1540 - 1901 AD
Divisions:
Oxford Archaeology East
Depositing User:

Chris Faine

Date Deposited:
27 Nov 2017 08:32
Last Modified:
27 Nov 2017 08:32
URI:
http://eprints.oxfordarchaeology.com/id/eprint/3396
Actions (login required)