Lambert, Paddy (2017) Gravel End, Coveney, Cambridgeshire. [Client Report] (Unpublished)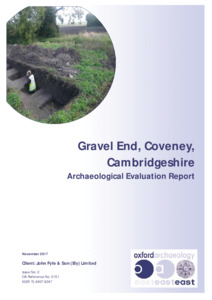 Preview
PDF




Report 2151_LR.pdf


Available under License Creative Commons Attribution Share Alike.
Download (3MB) | Preview
Abstract
Between the 9th and 13th October 2017 Oxford Archaeology East (OA East) carried out a trial trench evaluation at Gravel End, Coveney, Cambridgeshire. Three trenches totalling 55m of linear trenching were excavated by machine. The evaluation revealed the remains of a medieval midden, present in the south-east of Trench 1 and the entirety of Trench 3, an area covering at least 20m x 10m. The midden material had been deposited in a series of pits, originally constructed either as quarries or for the deliberate disposal of rubbish. Evidence for the pitting was best represented in Trench 1. The midden was formed by at least three distinct layers in both trenches and measured up to 0.7m thick in the south-west of Trench 3. A total of ten Test Pits were hand excavated through the layers of midden material in Trenches 1 and 3, to characterise and date the sequence.
An assemblage of medieval and post-medieval pottery weighing over 7kg was recovered from the midden deposits. The pottery assemblage is moderately abraded, with some larger, relatively unabraded, sherds and contains both kitchen and table wares. Although some later fabrics are present, the midden represents, in part, a transitional assemblage from the high medieval to the later medieval period. Medieval fabrics (c. AD 1150-1500) comprise approximately 85% of the total assemblage by weight, indicating that the midden deposits are mainly medieval in origin. The presence of transitional medieval-late medieval Ely ware sherds, suggests that there is a distinct phase of 14th century deposition within the midden. Other artefacts and ecofacts attest to both the domestic nature of the assemblage and the status of the building it may have come from. Medieval glazed roof tile was recovered from the top of the midden in Trench 3, while single medieval or late medieval roof tile fragments were recovered from other layers in Trench 3, where it was found alongside post-medieval roof tile. A small metalwork assemblage included a small iron knife and a barrel lock mechanism.
Plant remains such as cereal grains, legumes and seeds of both dry and wetland plants were recovered and the level of preservation was good. The assemblage mainly represents burnt food remains, which would be expected within midden deposits, with a moderate assemblage of cereal grains and a significant amount of legumes (peas and beans), which were an important component of the medieval diet.
A total of 6.3kg of animal bone was recovered from the midden layers. While not a huge amount, the volume recovered, coupled with signs of carcass processing and food waste evidence from the midden deposits, is substantial enough to indicate nearby settlement. A small shell assemblage is an indicator of diet and trade with the wider area (most likely via the River Great Ouse), with edible oyster shells from estuarine, shallow coastal waters and mussels from intertidal zones. The shell, along with a small number of fish bones and a single piece of egg shell attest to further culinary refuse.
Item Type:
Client Report
Uncontrolled Keywords:
archaeological evaluation, cambridgeshire, coveney, medieval, midden, quarry pit, pottery, cbm, tile, oyster shell, environmental remains, legumes, knife
Subjects:
Geographical Areas > English Counties > Cambridgeshire
Period > UK Periods > Medieval 1066 - 1540 AD
Period > UK Periods > Post Medieval 1540 - 1901 AD
Divisions:
Oxford Archaeology East
Depositing User:

Chris Faine

Date Deposited:
11 Dec 2017 13:03
Last Modified:
11 Dec 2017 13:03
URI:
http://eprints.oxfordarchaeology.com/id/eprint/3432
Actions (login required)