Richardson, Chris and Sims, Mike and Bashford, Robin and de Turberville, Alison Brasenose College Radcliffe Square Oxford. [Client Report] (Unpublished)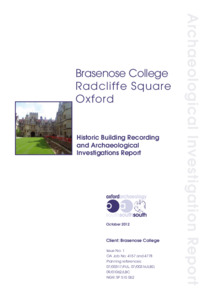 Preview
PDF




OXBCCC_08_&_10.pdf


Download (6MB) | Preview
Abstract
Between August 2008 and March 2011, Oxford Archaeology South (OAS) carried
out historic building recording and an archaeological watching brief during works at
Brasenose College Kitchens, Radcliffe Square, Oxford. Photographic recording was
undertaken in the areas affected by to the works, which included a series of 20th-
century buildings to the south of the Buttery that were to be demolished.
Building recording concentrated on the cellars beneath the Buttery and Hall where
alterations were to take place. The cellars remain an important part of the kitchen
facilities, with the Buttery Cellar containing the silver vaults and the cellar under the
hall used for wine storage. Both contain elements of the original, 16th-century
college building in the stonework of the lower walling. The Wine Cellar underneath
the Hall contains three large stone columns that support the large floor beams of the
Hall above. These date to the late 17th-century and it is likely that the cellar was a
large open space at this time. Later alterations include the addition of brick vaulted
ceilings and walls in both cellars and the creation of shelving for storage in the Wine
Cellar in the 18th-century. Later changes include the addition of a silver vault in the
Buttery Cellar in the 19th-century and the reworking of the west end of the hall cellar
in the 20th-century.
The removal of panelling within the Eckersley room revealed a section of 16th-
century timber frame, in a partition wall thought to have been built during the late
19th-century reworking of the kitchen by Jackson. Fixed to the timber frame were a
series of wooden panels decorated with painted stars on a black background. The
overall design is very rough in its execution but it is not thought to date to the same
phase as the walling. The panelling probably formed part of a small bedroom or
study which would have been separated from the main sitting room area by simple
partition walling. The discovery of the panelling led to further historical research and
analysis which formed the basis of a separate report issued in January 2011, and
included in this report as Appendix E. The west elevation of the Eckersley room
contained evidence for a former fireplace, larger than that seen today.
Below ground works were in advance of the excavation of a new gas trench and the
conversion of an existing coal cellar into a boiler room, the construction of a
temporary kitchen and dining marquee, and the excavation of a lift pit, cellar and
general groundworks. Evidence for a building and associated pits that pre-dated the
construction of the 16th-century College buildings were found. In addition, structural
evidence for an internal wall within the Buttery, floors within the Servery and walls
forming the 19th-century College Rooms and Scullery were identified. Much of the site had been landscaped in the 19th-century.
Actions (login required)