Hiller, Jon Oxford Castle Project; Archaeological Field Evaluation Report. [Client Report] (Unpublished)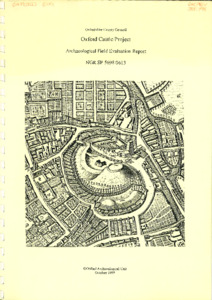 Preview
PDF




OXCA99.pdf


Download (8MB) | Preview
Abstract
OA carried out an archaeological field evaluation of part of the site of Oxford Castle in June and July 1999.
The natural subsoil was identified in a few limited locations and probable natural watercourse deposits were located at the southern extremity of the site. Pre-castle activity represented by late-Saxon soil layers was seen in two of the trenches. Evidence for medieval activity was limited, the only significant medieval structure found was part of a large wall again at the southern end of the site which may represent a link to the City wall rather than being part of the curtain wall of the castle. In situ deposits of medieval date appear to survive in both the main moat and in the motte ditch. The latter seems to have been a very substantial feature, probably at least 15m across. No features were identified associated with the east gate of the castle or with Shire Hall. The area of the former was partly disturbed by prison buildings and the location of the latter may have been completely removed by extensive gravel quarrying, probably of late 18th century date. The motte ditch was partly recut by a substantial linear feature also of medieval date.
Construction of B Wing of the former prison had caused extensive intrusion into deposits lying west of the main footprint of the building. Other 19th century prison features were identified. Installation of services for successive phases of the prison had also caused considerable disturbance particularly in the southern part of the site.
Actions (login required)