Hiller, Jon and Haines, Tim St Mary's Church, Bampton, Oxfordshire. [Client Report] (Unpublished)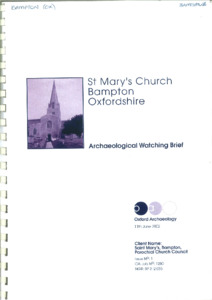 Preview
PDF




BAMSM02.pdf


Download (2MB) | Preview
Abstract
In April 2002 Oxford Archaeology (OA) carried out an archaeological watching brief at St. Mary's Church, Bampton, Oxfordshire (NGR SP 312 033). The work was commissioned by J Alan Bristow and Partners on behalf of St. Mary's Parochial Church Council in advance of the excavation of a foul water drainage pipe alongside the path leading to the south door of the church and through the churchyard entrance.
The watching brief revealed a number of grave cuts in the natural gravel. On analogy with previous excavations in the churchyard, it is possible these graves date to the Saxon period, although no dating evidence was recovered. The graves were overlain by a general churchyard soil, which was cut by later burials. Several graves cut from just below the present topsoil are probably of relatively recent date, though none were dated.
Of note was the presence of several inter-cutting ditches just outside the limit of the churchyard. These appear to be medieval re-cuts on the line of the original Saxon Minster ditch. Portions of two demolished walls, separated by a small gap and situated in the area of the present churchyard entrance probably represent the remains of a former entrance to the churchyard. A further section of walling inside the churchyard could represent a landscaping feature, though no dating for the wall was established. A former path leading to the church was also identified.
Actions (login required)