Kemp, Steve Glatton Hall and Roundhill Farms 1991. [Client Report] (Unpublished)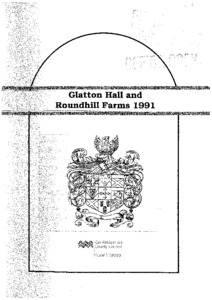 Preview
PDF




CCCAFU_report026.pdf


Available under License Creative Commons Attribution Share Alike.
Download (6MB) | Preview
Abstract
Archaeological survey of Glatton and Connington, south of Peterborough, in the district of Huntingdonshire, to define the areas of archaeological and historical interest.
Contains information on aerial photography from the Cambridge University Collection of aerial photography, geological and topographical surveying around Glatton and Conington.
These records suggest a late medieval/early post medieval moated site with a house situated at Roundhill.
Item Type:
Client Report
Uncontrolled Keywords:
Evaluation, Glatton, Conington, Roundhill Farms, late medieval, early post-medieval, Aerial photograph, Peterborough, Geology, Topography, Post-medieval moat, Post-medieval hunting lodge, Cambridgeshire, Cambridge County Council, Cambridge University Collection of aerial photography, Earthworks, Romano British, Pottery, Roman Marching Camp, Ordinance survey maps, Holme Brook, Huntingdon records office, Huntingdonshire, cinerary urn, ring ditch, Tree, Roman camp, monument, crop marks
Subjects:
Geographical Areas > English Counties > Cambridgeshire
Period > UK Periods > Medieval 1066 - 1540 AD
Period > UK Periods > Post Medieval 1540 - 1901 AD
Period > UK Periods > Roman 43 - 410 AD
Depositing User:

Archives

Date Deposited:
25 Jul 2018 08:04
Last Modified:
25 Jul 2018 08:04
URI:
http://eprints.oxfordarchaeology.com/id/eprint/4002
Actions (login required)