Wait, Gerald (1992) Roman Settlement at Hinxton 1991: An Archaeological Assessment. [Client Report] (Unpublished)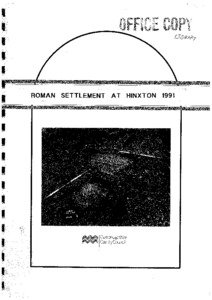 Preview
PDF




CCCAFU_report038.pdf


Available under License Creative Commons Attribution Share Alike.
Download (4MB) | Preview
Abstract
An archaeological field assessment was undertaken on behalf of Mineral Resources Ltd, from 25 November to 6 December 1991 on an area of about 8 hectares, as part of the process of planning application for a proposed borrow pit for gravel extraction (Figures 1 and 2).
The area (see fig 1) is located on first-second terrace gravels in the valley of the River Cam, to the north of Hinxton village and due east of Duxford. The underlying solid geology is chalk.
The topography of the area is essentially flat, but a variation in elevation of about 1.0 to 1.5 metres was observed across the width of the field. The soils of this area belong to the Moulton series, characterised by the Soil Survey as well drained stony (locally very stony) brown sandy loams. These soils were classified as grade 3a agricultural land.
A probable paleo-channel of the Cam is located immediately to the west of the area (see air photo evidence, figs 3, 4 and appendix 1).
Item Type:
Client Report
Uncontrolled Keywords:
Hinxton, Cambridgeshire, Duxford, Roman, Roman settlement, field assessment, post-medieval, tile, cropmark, ditches, villa, gully, posthole, pottery, Gallic, bowl, jar, butt beaker, animal bone, corn dryer, romano-british, aerial photographic assessment, pit, ring ditch,, 38, report 38, CCCAFU report 38, roman, cambridgeshire, hinxton, settlement, building, structure
Subjects:
Geographical Areas > English Counties > Cambridgeshire
Period > UK Periods > Post Medieval 1540 - 1901 AD
Period > UK Periods > Roman 43 - 410 AD
Depositing User:

Archives

Date Deposited:
27 Jul 2018 12:54
Last Modified:
30 Aug 2018 12:05
URI:
http://eprints.oxfordarchaeology.com/id/eprint/4015
Actions (login required)