Kemp, Steve (1992) A45(T) Cambridge Northern Relief Road. [Client Report] (Unpublished)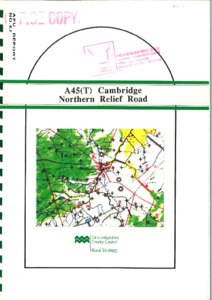 Preview
PDF




CCCAFU_report061_LR.pdf


Available under License Creative Commons Attribution Share Alike.
Download (4MB) | Preview
Abstract
An archaeological desk-top study has been carried out along the route of the Cambridge Northern by-pass (A45) in order to assess the possible impact of road-widening proposals on the archaeological resource.
The report contains detailed archaeological and historical information. The collected data has been used to draw up detailed recommendations for future action in advance of road construction, and in some cases in advance of detailed design proposals. Sites highlighted for preservation should be protected from all construction works.
Figures 5 & 6 detail the constraint areas showing archaeological sites which will require preservation or evaluation based on information recorded in the Cambridgeshire Sites and Monuments Record.
Item Type:
Client Report
Uncontrolled Keywords:
Archaeological Desk-Top Assessment, DBA, desk-based assessment, Cambridgeshire Sites and Monuments Record, A45, Girton, Histon, Arbury, Quy, Impington, Milton, Geology, Topography, Cretaceous gault, Lower chalk, Terrace gravel, Alluvium, Cambridgeshire County Council, Aerial photographs, Cartography, Excavation, Field survey, Royal Commission of Historic Monuments, Victoria County Histories, Bigin Abbey, Outcrops, Iron Age, Croft,Field system, Barrow, Flint, Finds scatter, Stratigraphy, Soilmarks, Lower Palaeolithic, Bronze Age, Anglo-Saxon, Prehistory, Roman, Pottery, Burial, Medieval, Post-Medieval, Godmanchester, Roman road, Cambridge, Ely, Domesday book, Mesolithic, Bifaces, Earthworks, Cropmarks, Hill fort, Trackway, Building material, Kiln, Cremation, Metalling, Sewage farm, Enclosure, Windmill, Church, Ridge and furrow, Fenland, Test pit, Recording brief, Site preservation
Subjects:
Geographical Areas > English Counties > Cambridgeshire
Period > UK Periods > Bronze Age 2500 - 700 BC
Period > UK Periods > Iron Age 800 BC - 43 AD
Period > UK Periods > Medieval 1066 - 1540 AD
Period > UK Periods > Post Medieval 1540 - 1901 AD
Period > UK Periods > Roman 43 - 410 AD
Depositing User:

Archives

Date Deposited:
07 Aug 2018 13:37
Last Modified:
13 Jun 2022 12:52
URI:
http://eprints.oxfordarchaeology.com/id/eprint/4039
Actions (login required)