Bray, Simon and Paul, Spoerry (1994) Throckenholt Farm, Parson Drove: A Roman Landscape on The Silt Fen. [Client Report] (Unpublished)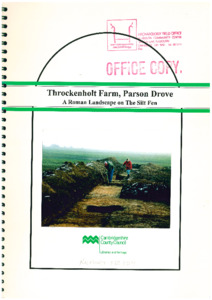 Preview
PDF




CCCAFU_report109.pdf


Available under License Creative Commons Attribution Share Alike.
Download (68MB) | Preview
Abstract
During November 1993 The Archaeology Field Unit (AFU) of Cambridgeshire County Council carried out an evaluation excavation of detailed cropmarks in the parish of Parson Drove. The work was completed as a continuation of a survey of the archaeology on the Cambridgeshire County Farms Estate. This project had previously identified sites and made recommendations for their future management (Malim, 1990). The new phase of fieldwork evaluation was funded by English Heritage and had two main research objectives: 1) determine the extent and state of preservation of archaeological deposits and their depth below the ground surface; and 2) identify the function, period and morphology of the site.
The site is located on siltland, reclaimed during the first century AD by the Romans, and from cropmark and fieldwork evidence it seems to represent and extensive agricultural and settlement landscape. It appears from the aerial photographs as groups of rectangular enclosures approached by long north-west/south-east and east/west aligned droveways.
The excavation, limited through time, was concentrated on a small portion of the cropmarks in the area for which a new lease was being negotiated. The area available for investigation was further restricted due to some fields being waterlogged. A total of five trenches were opened by a wheeled JCB excavator across the main area defined by the cropmarks. The work has demonstrated evidence of activity dating from the 2nd to 3rd centuries AD. This in the form of rectangular, ditched enclosures facing north-west/south-east aligned droveways leading out to associated field systems, possibly suggesting animal husbandry was being practised. Evidence of occupation was limited: The remains of high quality locally made pottery vessels, domestic tools and two rubbish pits were identified and although the precise site of the settlement was not located, it was recognised as being in the vicinity. By the late second to early third century the site appears to have fallen out of use, with abandonment possibly attributed to at least two phases of flooding. Limited later use of the site was identified in the form of two post-medieval ditches, which functioned as part of a later drainage network.
The work has also shown that the site has suffered considerably from some recent agricultural practices. Damage in the areas examined, appears to have stabilised, however, if future ploughing is restricted to the topsoil then the surviving archaeological remains should not suffer further destruction. However, given that the precise location of the settlement has not been located, and considering the lack of work on Fenland settlement sites and their importance in our understanding of the Fenland settlement sites and their importance in our understanding of the Fenland rural economy, further work would seem appropriate, to determine the degree of preservation of any surface.
A regular, biennial, system of monitoring should be established, evolving a combination of site visits with ad hoc field walking and possibly reinforced by limited trenching which also could be designed to evaluate unexplored areas of the site.
Item Type:
Client Report
Uncontrolled Keywords:
Parson drove, Throckenholt Farm, Cambridgeshire, Archaeological evaluation, Roman, agriculture, settlement, pottery, nene valley ware, English Heritage, cropmark, tools, cropmarks, siltland, enclosures, aerial photography, aerial photograph, droveway, field system, animal husbandry, farming, post-medieval, post medieval, drainage, Cambridgeshire County Farms Estate
Subjects:
Geographical Areas > English Counties > Cambridgeshire
Period > UK Periods > Post Medieval 1540 - 1901 AD
Period > UK Periods > Roman 43 - 410 AD
Depositing User:

Archives

Date Deposited:
13 Aug 2018 09:08
Last Modified:
17 Aug 2018 09:18
URI:
http://eprints.oxfordarchaeology.com/id/eprint/4093
Actions (login required)