Kemp, S. and Reynolds, T. (1995) Archaeology on the A1 between Alconbury and Fletton Parkway (TL1915/7400-1425/9420) - Stage 3 Assessment - Volume 1. [Client Report] (Unpublished)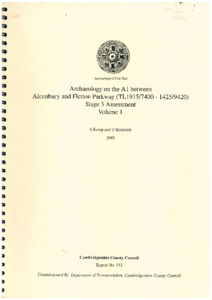 Preview
PDF




CCCAFU_report112.pdf


Available under License Creative Commons Attribution Share Alike.
Download (62MB) | Preview
Abstract
The Archaeological Field Unit (AFU) of Cambridgeshire County Council have been undertaking an assessment of the archaeology within the A1 widening corridor between Alconbury (TL190/740) and Fletton Parkway (TL139/942) on behalf of the Transportation Department of Cambridgeshire County Council. This work is required as part of the environmental impact assessment and the present document brings to a close the stage 3 (as defined by DoT Roads ad Bridges Manual Volume 11). Work was begun in January 1991 and the final field assessment was completed in April 1995. In the interim, two desk based studies have been completed and a total of 10 other reports produced. These reports are appended to the present one as supporting materials in Volume 2 (the first desk-top by Evans and Shotliff is not included as it was updated and replaced by that of Pelling and Lieth.
The current report provides a brief description of the archaeological background, a summary of the work carried out and provides a landscape use model for archaeological interpretation. This is then used to define constraint areas where further archaeological works advised. Four forms of constraint area are defined, Scehduled Ancient Monuments (SAMs), Sites of Regional Importance, Sites of Potential Importance, Sites of Low Archaeological Priority. The areas of potential importance are defined because access to certain areas has not been possible and so invasive evaluation of the archaeology in these has not been possible.
The AFU were required, during this work, to concentrate solely on a narrow corridor defined by the widening scheme itself, base investigation on 'known' sites (i.e. those on the SMR) and to avoid pursuing research and academic factors. These criteria have been met but limit an effective landscape based assessment. The broader context of the road and its archaeology must be addressed in future synthetic work. It is particularly important to link the work between Alconbury and Fletton Parkway with that on immediately adjacent stretches of the road. A bibliography is supplied as part of this report, not merely to provide references for the present report but as source material for future archaeological work.
Item Type:
Client Report
Uncontrolled Keywords:
Alconbury, Fletton Parkway, A1, Cambridgeshire, Stage 3 assessment, Volume 1, desk-based assessment, archaeological evaluation, Roman, medieval, post medieval, post-medieval, kiln, environmental impact assessment, EIA
Subjects:
Geographical Areas > English Counties > Cambridgeshire
Period > UK Periods > Medieval 1066 - 1540 AD
Period > UK Periods > Post Medieval 1540 - 1901 AD
Period > UK Periods > Roman 43 - 410 AD
Depositing User:

Archives

Date Deposited:
13 Aug 2018 09:19
Last Modified:
17 Aug 2018 09:07
URI:
http://eprints.oxfordarchaeology.com/id/eprint/4096
Actions (login required)