Champness, Carl Severnside West Pipeline Diversion, South Gloucestershire. [Client Report] (Unpublished)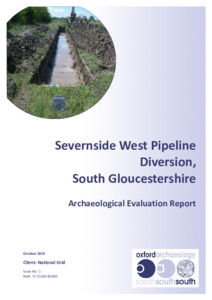 Preview
PDF




BRSMG_2015_11.pdf


Download (5MB) | Preview
Abstract
In June 2015 Oxford Archaeology undertook an archaeological evaluation along the
route of the proposed Severnside Pipeline Diversion, South Gloucestershire. The
work was commissioned by Jacobs on behalf of the National Grid. The primary
purpose of the evaluation was to assess the archaeological potential of the route of
the proposed pipeline diversion.
The site lies upon extensive estuarine alluvial deposits known as the Wentlooge
Formation, which underlie large areas of both the English and Welsh sides of the
Severn Estuary. In the Enron site to the south, a thin peat layer containing a
comminuted charcoal in-wash was radiocarbon dated to the early Bronze Age.
Although no evidence of human activity accompanied this deposit, previous work to
the north-east of the site had provided evidence of Romano-British settlement.
A geophysical survey was undertaken prior to the intrusive works that suggested
low archaeological potential, with mainly services and geological changes revealed.
The archaeological evaluation comprised the mechanical excavation of 20 trenches
measuring 30m by 2m, comprising a 4% sample of the proposed route. The
trenches were positioned to investigate the results of the geophysical survey and to
investigate areas that had been unavailable at the time of the survey. In addition,
four geoarchaeological test pits were excavated within the trenches, and four
boreholes, in order to map the underlying sediments and to investigate the
presence/extent of any charcoal and peat layers.
Several undated ditches were identified in the north-west area of the route and have
been interpreted as drainage ditches associated with post-medieval cultivation. The
remaining trenches were devoid of archaeological remains and only ceramic land
drains and clearly modern features were recorded.
The geoarchaeological test pits and boreholes showed an alluvial sequence across
the route consistent with the Middle to Upper Wentlooge Formation. A layer
corresponding precisely with a charcoal layer previously found to the south was
mapped across the area. The layer is interpreted as a humified incipient vegetation
layer, which in the west and south of the site was very dark and contained
microscopic charcoal (but no in situ burning), whilst further east the layer became
more humic and peaty. No archaeological finds or features were found in
association with this layer.
Based on the result of the evaluation, the archaeological and palaeoenvironmental
impact of the proposed pipeline diversion is considered to be low.
Actions (login required)