Fletcher, Taleyna (2004) Bronze Age Boundaries and Cremations at Roman Way, Godmanchester, Cambridgeshire. [Client Report] (Unpublished)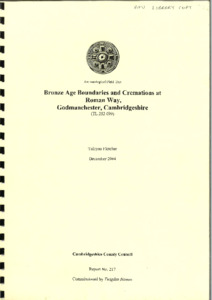 Preview
PDF




CCCAFUreport217_LR.pdf


Available under License Creative Commons Attribution Share Alike.
Download (3MB) | Preview
Abstract
An Archaeological excavation was carried out at Roman Way, Godmanchester in advance of the construction of a proposed housing development. The work was carried out on behalf of Twigden Homes by the Archaeological Field Unit of Cambridgeshire County Council between 27th and 31st October 2003.
An area of approximately 0.24ha was excavated and contained a number of archaeological features. Some disturbance associated with development work on the site approximately twenty years ago was encountered, but this had little impact on the archaeology.
The earliest phase was represented by a 'working hollow' characterised by a spread of worked flints and pottery fragments, two isolated pits and a narrow ditch. Pottery and flint from these features date this phase of activity to the Early/Middle Neolithic period.
A second phase of activity was represented by a number of boundary ditches at the southern end of the site, which were on an approximately north-west to south-east alignment. The small amount of pottery suggests that these ditches date to the Bronze Age. Three pits containing cremated human remains, probably contemporary with these ditches, were revealed in the North-West of the excavation area. Two narrow ditches running approximately at right angles to each other, presumably forming a later enclosure, on a north-north-west to south-south-east and east to west alignment also contained Bronze Age Pottery.
A series of undated features, including isolated post holes, quarries and several natural anomalies were also present.
Item Type:
Client Report
Uncontrolled Keywords:
Godmanchester, gdmanchester, Cambridgeshire, cambridgeshire, archaeological excavation, excavation, Excavation, Neolithic, neolithic, Bronze age, bronze age, Pottery, pottery, pot, ceramic, sherd, vessel, neolithic pottery, Neolithic pottery, Bronze Age pottery, bronze age pottery, cremation, HSR, hsr, human remains, cremated human remains, Bronze age cremation, ditch, ditches, enclosure, enclosure ditch, Bronze Age enclosure ditch, bronze age enclosure ditch, hollow, flint, flints, worked flint, worked flints, lithic implement, Neolithic worked flint, neolithic worked flint, boundary ditch, boundary ditches, Bronze Age boundary ditch, 217, report 217, Report 217, CCCAFU report 217
Subjects:
Geographical Areas > English Counties > Cambridgeshire
Period > UK Periods > Bronze Age 2500 - 700 BC
Period > UK Periods > Neolithic 4000 - 2200 BC > Early Neolithic 4000 - 3000 BC
Period > UK Periods > Neolithic 4000 - 2200 BC > Middle Neolithic 3500 - 2700 BC
Period > UK Periods > Neolithic 4000 - 2200 BC
Depositing User:

Archives

Date Deposited:
09 Mar 2022 11:46
Last Modified:
09 Mar 2022 11:46
URI:
http://eprints.oxfordarchaeology.com/id/eprint/4230
Actions (login required)