Bush, Louise (2018) Neolithic, Bronze Age and Anglo-Saxon remains at Hazelend Road, Bishop's Stortford, Hertfordshire: PXA and UPD. [Client Report] (Unpublished)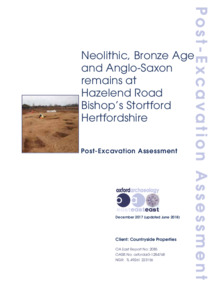 Preview
PDF




PXA Report 2085_LR.pdf


Available under License Creative Commons Attribution Share Alike.
Download (3MB) | Preview
Abstract
Archaeological works on land off Hazelend Road, Bishop's Stortford revealed a Neolithic and Bronze Age landscape. The earliest remains consist of a series of pit groups containing assemblages of Early Neolithic pottery and struck flint. The majority of the remains uncovered date from the Bronze Age period. Evidence for the Early Bronze Age is confined to funerary remains, namely a probable 'mini' barrow, cremations and an unusual enclosure. This enclosure, located in the north-westernmost corner of the main excavation area, consisted of a sub-rectangular ditched enclosure; with an ancillary chamber attached on its northern side and internal postholes. A radiocarbon date obtained from charcoal from its fill produced a date of 1885-1695 BC. The exact function of this feature is still to be determined, but it was probably a shrine or funerary monument.
The urned cremation consisted of a large biconical urn with horseshoe decoration, placed upturned in a pit and then backfilled with large unworked flint nodules, which would have formed a cairn over the feature. A further four cremations (unurned) were also located across the site. A copper alloy needle was recovered from one of these cremations, from which a radiocarbon date of 2122-1900 BC was obtained.
A field system and sinuous enclosure ditch are believed to date to the Middle Bronze Age, however, firmly datable remains from these features were low. The Late Bronze Age remains were dominated by pits and posthole structures, along with a three-sided ditched enclosure. Large quantities of pottery were collected from the Late Bronze Age features, with the three-sided enclosure alone producing nearly 8kg.
Low-level Anglo-Saxon remains were also identified, and consisted of a highly truncated sunken-feature building (SFB), containing Early-Middle Saxon pottery, fired clay and ironwork.
Item Type:
Client Report
Uncontrolled Keywords:
archaeological excavation, hertfordshire, Hertfordshire, Bishop's Stortford, bishop's stortford, bronze age, Bronze Age, neolithic, Neolithic, pottery, pot, vessel, ceramic, anglo-saxon, Anglo-Saxon, early medieval, Early Medieval, bronze age pottery, Early Bronze Age, early bronze age, Middle Bronze Age, middle bronze age, Late Bronze Age, late bronze age, cremation, urned cremation, funerary remains, hsr, HSR, human remains, human skeletal remains, charred bone, burnt bone, charcoal, radiocarbon date, radiocarbon dating, C14, c14, C14 dating, c14 dating, ditched enclosure, enclosure ditch, unurned cremation, post hole, posthole, monument, needle, sfb, SFB, sunken-featured building, sunken featured building, grubenhaus, biconical urn, biconical, horseshoe decoration, decoration, saxon pottery, Saxon pottery, early medieval pottery, 2085, report 2085, Report 2085, OAE report 2085, cairn, flint, worked flint, lithic, lithic implement, pit, post hole structure, field system, agriculture, tree throw, gully, ditch, coin, nail, core reduction, flake, blade, early neolithic, Early Neolithic, early neolithic flint, Early Neolithic flint, early neolithic worked flint, Early Neolithic worked flint, end scraper, prehistoric pottery, Prehistoric pottery, Plainware Phase of the Post Deverel Rimbury (PDR) ceramic tradition, Plainware phase, plainware phase, plainware, Plainware, Post Deverel Rimbury, PDR, pdr, ecofacts, environmental sample, pxa, PXA, post-excavation assessment, upd, UPD, updated project design
Subjects:
Geographical Areas > English Counties > Hertfordshire
Period > UK Periods > Bronze Age 2500 - 700 BC
Period > UK Periods > Bronze Age 2500 - 700 BC > Early Bronze Age 2500 - 1500 BC
Period > UK Periods > Early Medieval 410 - 1066 AD
Period > UK Periods > Neolithic 4000 - 2200 BC > Early Neolithic 4000 - 3000 BC
Period > UK Periods > Bronze Age 2500 - 700 BC > Late Bronze Age 1000 - 700 BC
Period > UK Periods > Bronze Age 2500 - 700 BC > Middle Bronze Age 1600 - 1,000 BC
Period > UK Periods > Neolithic 4000 - 2200 BC
Divisions:
Oxford Archaeology East
Depositing User:

Hamilton

Date Deposited:
26 Sep 2018 14:20
Last Modified:
26 Sep 2018 14:51
URI:
http://eprints.oxfordarchaeology.com/id/eprint/4394
Actions (login required)