O' Leary, Desmond (2009) Chatterley Whitfield Colliery, Dirt Conveyor Tower, North Staffordshire. Watching Brief. Project Report. Oxford Archaeology North. (Unpublished)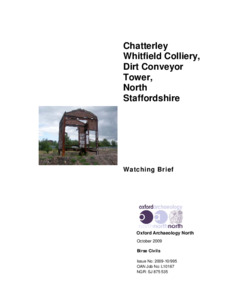 Preview
PDF




Fullreport191009.pdf


Download (4MB) | Preview
Abstract
Birse Civils are currently undertaking the redevelopment of the main spoil tip (Tip 1) at the former Chatterely Whitfield Colliery, North Staffordshire (NGR SJ 875,535),
transforming the site to a Heritage Country Park (Phase 1b). The redevelopment of the site is part of a wider scheme incorporating three phases (1a-1c). Phase 1a has been
completed and included improvements to the access arrangements to the north-east of the site and refurbishment of one of the former buildings, whilst Phase 1c relates to
the future restoration and development of the remainder of the former colliery buildings to the east. As the former colliery is a Scheduled Monument (SM No
21575), the Department for Culture Media and Sport specified that prior to works being carried out arrangements were to be made for the observation, recording and removal for study of any matters of archaeological and/or historic importance
revealed by the works. Subsequently, OA North was invited by Birse Civils to submit a project design for an archaeological watching brief during ground disturbance in the area of the Dirt Conveyor Tower, and upon acceptance of this document, the watching brief was duly carried out on the 27th and 28th of July 2009.
Limited, small-scale coal mining activity has been undertaken at Whitfield since the medieval period but more formally during the eighteenth century. During the mid nineteenth century, following improvements to local transport links, Hugh Henshall Williamson, the owner of the Whitfield estate, enlarged the coal mines at Whitfield.
In 1937 Chatterley Whitfield became the first colliery to produce more than 1,000,000 tons of coal in one year. By World War II the colliery was the largest producer in
Staffordshire. It was nationalised in 1947 and closed sometime between 1976 and 1977.
Actions (login required)