Bullock, Vicki (2009) Lower Wharf Street, Ashton-Under-Lyne, Greater Manchester. Historic Research and Archaeological Watching Brief. [Client Report] (Unpublished)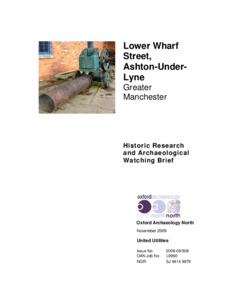 Preview
PDF




LowerWharfFullReport101109.pdf


Download (31MB) | Preview
Abstract
Following proposals by United Utilities for an underground chamber, associated kiosk and various underground pipework at the Lower Wharf Street site beside the Ashton Canal, (NGR SJ 9414 9879), the County Archaeologist for Greater Manchester recommended the completion of historic research relating to the application area, whilst an archaeological watching brief was to be undertaken during the groundworks.
Oxford Archaeology North (OA North) was commissioned by United Utilities to undertake this work.
The study area lies within the Whitelands Basin, also known as Donkey Stone Wharf(formerly Ashton Old Wharf), which was the eastern terminus of the Ashton Canal at its junction with the Huddersfield Narrow Canal. The documentary and cartographic research indicated that the potential existed for buried remains of archaeological significance to survive in-situ within the development area, and, although the area of Ashton Old Wharf was landscaped during the 1980s, historic mapping (from 1848-1963) indicates that a structure existed on the south side of Lower Wharf Street within the area of the proposed trench, control kiosk and pipework. It was considered possible that the remains of this structure existed below ground. Furthermore, there was the possibility that below surface remains exist relating to the industrial processing that took place on the Old Wharf. These may be
pertinent to either Eli Whalley's manufacture of donkey stones or earlier canal warehouse buildings.
Actions (login required)