Bashford, Robin Morris Garage Building Longwall Street Oxford. [Client Report] (Unpublished)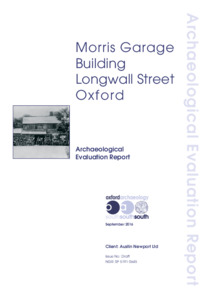 Preview
PDF




OXMO16_Report.pdf


Download (1MB) | Preview
Abstract
In September 2016, Oxford Archaeology undertook the excavation of four
geotechnical trial trenches (Trenches 1-4) at the Morris Garage Building, Longwall
Street, Oxford. The work was undertaken in advance of a planning application for
the proposed development of the courtyard to the rear of the building, and the
refurbishment of the building itself. Three additional test pits (Trenches 5-7) were
also excavated at the request of the arborist for Oxford City Council.
The proposed development is on the site of the in-filled medieval defensive ditch
(with the southern limit of the site corresponding with the line of the outer defensive
wall). More recently the former Morris Garage, built in 1910, occupied the site,
which was redeveloped in the early 1980s when only the frontage was retained.
Trench 1 revealed the northern face of an E-W orientated stone wall, under the
current brick wall and its foundation. This was orientated along the line of the
southern boundary to the site and possibly represents the remains of the medieval
outer defensive wall, or a rebuild or repair to that wall. Earlier N-S orientated
stonework was observed below the modern brick wall and foundations forming the
current western boundary in Trenches 2 and 5; no dating evidence was recovered
but this wall appears on 19th century maps. An internal mortar floor in Trench 1 was
overlain with modern demolition rubble and probably represents the floor to 19/20th
century building, associated with the Morris Garage, shown in this location on
contemporary maps. A similar layer of rubble overlay an external cobbled courtyard
surface in Trench 4, this was also probably associated with the Morris Garage.
The majority of the deposits encountered in the remaining Trenches were
associated with the 1980s' redevelopment. Together the evidence suggests that the
ground level to the rear of the Longwall Street frontage had been raised at this time,
burying the demolished remains of the former buildings by between 0.60–0.70m (c
59.75mOD) to achieve the current levels (c 60.40m OD).
Actions (login required)