Zant, John (2009) The Lanes, Carlisle, Volume 2. Project Design for Completion of the Publication Programme. Project Report. Oxford Archaeology North. (Unpublished)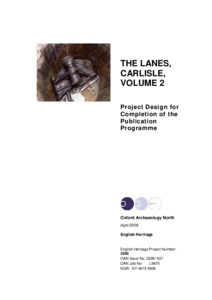 Preview
PDF




TheLanesPDFull.pdf


Download (4MB) | Preview
Abstract
From 1978 to 1982, Carlisle Archaeological Unit (CAU; Carlisle Archaeology Ltd(CAL) from 1999) carried out a programme of archaeological excavation and standing
building recording, funded in part by the then Department of the Environment, prior to the redevelopment of the Lanes, a densely built-up area of approximately 2.8ha (6.9
acres) situated within the north-east angle of Carlisle's medieval city defences. In total, some 26 excavation trenches were opened over the site as a whole, and a further
20 areas were subjected to watching brief. Over 2m of deeply stratified archaeological deposits were encountered over much of the area investigated, and these were excavated by hand to the natural subsoil. Extensive and extremely well-preserved strata of Roman and medieval date, including some waterlogged deposits, were recorded, together with more limited prehistoric and post-medieval remains. In total,
approximately 10,400 context numbers were issued. Approximately 120 of the 140 standing buildings earmarked for demolition were recorded to some degree. These were mostly of nineteenth-century date, but included some late eighteenth-century structures and a few that were found to incorporate probable late seventeenth-early
eighteenth-century elements. An historical survey of documentary evidence pertaining to the development of the Lanes area in the medieval and early post-medieval periods
was also undertaken.
Actions (login required)