Lord, Adele (2019) 141 Ditton Walk, Cambridge. [Client Report] (Unpublished)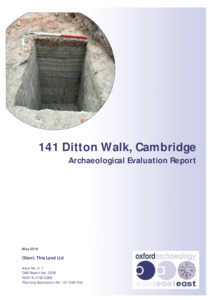 Preview
PDF




OAE_Report2328_CAMDTW19_LR.pdf


Available under License Creative Commons Attribution Share Alike.
Download (6MB) | Preview
Abstract
Between the 29th March and 2nd May 2019 Oxford Archaeology East undertook an archaeological evaluation at 141 Ditton Walk, Cambridge (centred TL 4762 5989).
A total of four trenches were excavated within the proposed development area of c.0.4ha. The trenches revealed the presence of a post-medieval fence line, several post medieval pits and a paleochannel, along with multiple layers of modern levelling and demolition rubble from the previously existing building.
Overall, the evaluation has revealed nothing of archaeological interest preserved within the proposed development site.
Item Type:
Client Report
Uncontrolled Keywords:
Evaluation, evaluation, archaeological evaluation, Cambridgeshire, cambridgeshire, Cambridge, cambridge, Modern, modern, Palaeochannel, palaeochannel, Paleochannel, paleochannel, 2328, report 2328, Report 2328, OAE report 2328
Subjects:
Geographical Areas > English Counties > Cambridgeshire
Period > UK Periods > Iron Age 800 BC - 43 AD
Period > UK Periods > Iron Age 800 BC - 43 AD > Late Iron Age 100 BC - 43 AD
Period > UK Periods > Modern 1901 - present
Divisions:
Oxford Archaeology East
Depositing User:

Hamilton

Date Deposited:
10 Jun 2019 08:20
Last Modified:
16 Jan 2023 10:06
URI:
http://eprints.oxfordarchaeology.com/id/eprint/4907
Actions (login required)