Druce, Denise (2007) Hornby Village Institute, Hornby, Lancashire. Paleoenvironmental Report. [Client Report] (Unpublished)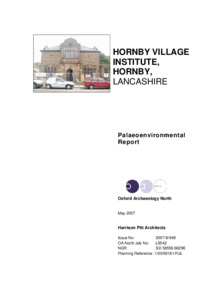 Preview
PDF




Complete Report.pdf


Download (4MB) | Preview
Abstract
Following the submission by Harrison Pitt Architects of a planning application (reference 1/03/00781/FUL) to redevelop the existing building of Hornby Village Institute, Main Road, Hornby, Lancashire (SD 58556 68296), Lancashire County
Archaeology Service (LCAS) issued a formal brief recommending that an archaeological watching brief be conducted during any associated groundworks.
Following submission and approval of a project design, Oxford Archaeology North (OA North) was commissioned to undertake the watching brief. This was undertaken
in two phases between 15th and 23rd June 2005 and 18th and 25th July 2005 during the
excavation of wall footings and an elevator shaft (OA North 2005). During these works, a possible medieval plough soil, layer 104, was revealed in the garden area to the south of the existing building, from which a number of bulk samples for general biological assessment were taken.
Following the assessment for charred and waterlogged plant remains from plough soil 104, in consultation with LCAS, recommendations were made for full palaeoenvironmental analysis of the material from this context. Very little
palaeoenvironmental work has been undertaken on material from the Lune valley and there is a similar lack of medieval/post-medieval records from the North West in
general; it was, therefore, felt that the further analysis of the plant remains would significantly add to our understanding of the past ecology and economy of the area.
Actions (login required)