Tonks, David (2006) Lancaster Police Station, Thurnham Street, Lancaster, Lancashire. Archaeological Watching Brief. Project Report. Oxford Archaeology North. (Unpublished)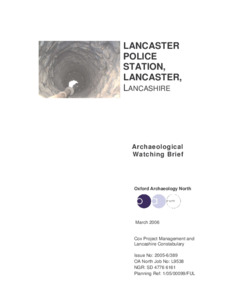 Preview
PDF




completereport.pdf


Download (16MB) | Preview
Abstract
Lancaster Constabulary propose to redevelop Lancaster Police Station, Thurnham Street, Lancaster (centred on SD 4776 6161), through the replacement of the existing carpark with a multi-storied and basemented structure (planning reference
1/05/00099/FUL). The site, measuring roughly 36m north/south by 33m east/west, lies within an area of archaeological potential and, accordingly, Lancashire County
Archaeological Services (LCAS) requested that a watching brief be undertaken during groundworks. Following submission of a project design, Oxford Archaeology North (OA North) were commissioned by Cox Project Management, on behalf of Lancaster Constabulary, to undertake the archaeological works. The watching brief was undertaken between 26th May and 26th September 2005.
The groundworks were carried out in a number of phases; initially, two proof trenches were required in advance of piling works along Marton Street and up the western
perimeter of the development site. Each proof trench was excavated in short sections and to a depth at which natural ground was located, normally at around 2.5m below the
current ground level; any foundations of the previous police station were removed. A sandstone wall, probably Victorian in origin and running parallel to the edge of the site
along Marton Street, was exposed in the southern proof trench (Proof Trench 1). Any other potential archaeological remains that might have lain within the areas of these
trenches had evidently been truncated by the construction of the former police station buildings in the 1960s, the footings for which were up to 3.6m in depth. The second
phase of groundworks comprised the bulk excavation of the development site in a contiguous series of square 'boxes' that were filled with concrete to create the footings
for the new structure, and the removal of any 1960s footings in these areas.
Actions (login required)