Connor, Aileen (2006) Investigations on a Medieval Moated Site at Hall Orchard, Fulbourn: An Archaeological Training Dig. [Client Report] (Unpublished)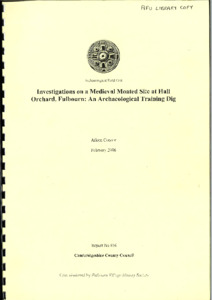 Preview
PDF




CCCAFU_report836.pdf


Available under License Creative Commons Attribution Share Alike.
Download (7MB) | Preview
Abstract
This report concerns the archaeological investigation of the moated site at Hall Orchard in Fulbourn, Cambridgeshire. The project forms part of wider research on the Fulbourn Manor Estate and environs by Cambridgeshire County Council Archaeological Field Unit and Fulbourn Village History Society.
The excavation of the Hall Orchard site had a number of aims including: contributing to research about the medieval origins of Fulbourn; confirming that the site is medieval in origin; gathering information to inform future management plans; and allowing the local and wider community to become closely involved in the project.
The investigations were carried out over two summer seasons and included limited hand excavation of seven small areas of between four and thirty square metres each.
Investigations in the moat ditch showed that it had been regularly scoured and that limited archaeological remains are preserved. However, details about the water management and construction method for the moat platform including evidence of a possible timber bridge, were revealed.
Excavations on the moat platform revealed evidence for stone and timber buildings including a stone built house that may have been two storeys high with an internal chapel, and a kitchen with oven, adjacent midden and drains.
A fine assemblage of painted 14th century glass coupled with roofing material including glazed tiles and decorative finials suggests that the house was owned by someone of high status. Other finds indicative of wealth and high status include a black mineral bead, small silver fittings, a silver finger ring, and a 17th century hooked clothing tag. Pottery includes a high percentage of ceramic glazed wares along with less usual items such as a bottle with a small spigot hole, bunghole cisterns and a curfew. Animal bones showing that species such as halibut, pheasant and pigeon squabs were eaten by the inhabitants of this site also attest to their high status. Other finds such as a fragment of a horseshoe, an iron harness buckle and a barbed hunting arrowhead show that the inhabitants and visitors to the house enjoyed leisure pursuits such as riding and hunting. The pottery recovered shows that the site was occupied continuously from the 13th to the 17th century.
Item Type:
Client Report
Uncontrolled Keywords:
fulbourn, Fulbourn, Cambridgeshire, cambridgeshire, training dig, Training Dig, Training dig, Fulbourn Manor Estate, fulbourn manor estate, Fulbourn Village History Society, Fulbourn village history society, Fulbourn Village History Society, Moat, moat, ditch, Ditch, Pottery, pottery, wealth, Wealth, High status, high status, High Status, ceramic, Ceramic, Glazed, glazed, glass, Glass, tile, tiles, Tiles, finial, finials, Animal bones, Animal Bones, animal bone, animal remains, bone, bones, riding, Riding, hunting, Hunting, report 836, 836, Report 836, CCCAFU report 836, Medieval, medieval, Post-Medieval, post-medieval, Post Medieval, post medieval, early post-medieval, early post-medieval, pot, sherd, Medieval pottery, medieval pottery, Post-Medieval pottery, post-medieval pottery, Post Medieval pottery, post medieval pottery, early post-medieval pottery, early post-medieval pottery, structure, building, wooden building, wooden structure, stone building, stone structure, ironwork, arrow, arrowhead, barbed arrowhead, painted glass, midden, drain, drains, moat platform, halibut, pheasant, pigeon, glazed ware, spigot, finger ring
Subjects:
Geographical Areas > English Counties > Cambridgeshire
Period > UK Periods > Medieval 1066 - 1540 AD
Period > UK Periods > Post Medieval 1540 - 1901 AD
Depositing User:

Archives

Date Deposited:
09 Dec 2019 08:31
Last Modified:
09 Dec 2019 08:31
URI:
http://eprints.oxfordarchaeology.com/id/eprint/5413
Actions (login required)