Graham, Steven (2019) Land to the East of The Street, Bramford, Suffolk. [Client Report] (Unpublished)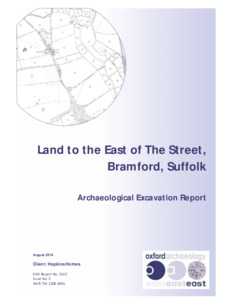 Preview
PDF




OAE_Report 2142_XSFBRM16_LR.pdf


Available under License Creative Commons Attribution Share Alike.
Download (10MB) | Preview
Abstract
Between December 2016 and February 2017, Oxford Archaeology East conducted an excavation within a field directly east of The Street – a main road leading into the historic village of Bramford, Suffolk. The site, which is located 300m north-west of the historic core of the village, revealed evidence of prehistoric activity and a dense sequence of settlement-related and agricultural features spanning the early medieval to post-medieval periods. A further phase of work was undertaken in September 2018, when an area of 0.45ha was subject to a 'strip map and record' excavation preceding the creation of a new attenuation pond. This revealed a large pond or hollow, two undated ditches (previously identified in cropmarks of the site) and a post-medieval field boundary.
Evidence of prehistoric land-use in the Gipping valley was provided by the discovery of a scatter of Bronze Age pits – including one containing a domestic Beaker assemblage and contemporary flintwork, along with part of a possible Bronze Age field system.
Following this, the next significant use of the site was during the early to high medieval periods, probably beginning not much earlier than the 12th century. This initially included features that were presumably related to a dispersed settlement or homestead located close to the north-western corner of the site. Subsequently, a large boundary ditch was established, within which was a smaller enclosure positioned closer to the road. These enclosures were superseded (probably in the 13th century) by at least three rectangular 'plots' laid out perpendicular to the road, bounded by a large enclosure ditch. Settlement-related features included ovens, various pits, a well and numerous postholes − the latter representing the poorly-defined remains of agricultural structures such as fences, pens and shelters. These plots probably formed the working yard/back plot areas and market gardens for peasant 'toft' dwellings, with the houses presumably located on the road frontage to the west. The regularity of the plots indicates a deliberate expansion of the village along the main road towards the north-west, probably driven initially by a population rise and possibly a change in land ownership.
This rural agricultural community appears to have practised a localised subsistence / mixed economy (with pigs seemingly bred on site), within the hinterland of the village. Towards the end of the medieval and into the late medieval period (c. 14th/15th-16th centuries), there was a decline in activity and a change in use of the site, with the earlier plot divisions becoming defunct and the accumulation of several midden deposits across parts of the site. The latter (which produced some of the largest finds assemblages from the site) indicate that the land was being utilised for the disposal of rubbish from the village and/or nearby properties. The eventual abandonment of the site, which reverted to open fields until its redevelopment, may have been due to a combination of factors including rural depopulation, possible adverse climate effects and changing agricultural practices.
Item Type:
Client Report
Uncontrolled Keywords:
Suffolk, suffolk, Bramford, bramford, Excavation, excavation, archaeological excavation, Early Medieval, early medieval, Medieval, medieval, Post-Medieval, post-medieval, Post Medieval, post medieval, Pottery, pottery, pot, ceramic, sherd, CBM, cbm, Ceramic Building Material, ceramic building material, Tile, tile, Brick, brick, Quern, quern, Saxon, saxon, Key, key, Knife, knife, Blade, blade, animal remains, animal bone, animal bones, bone, bones, pig, pig remains, Early Medieval pottery, early medieval pottery, Medieval pottery, medieval pottery, Post-Medieval pottery, post-medieval pottery, Post Medieval pottery, post medieval pottery, Gipping Valley, gipping valley, road, roadside, Bronze Age, bronze age, Bronze Age pottery, bronze age pottery, Beaker, beaker, field system, enclosure ditch, ditch, pit, pits, post hole, posthole, toft dwelling, settlement, oven, well, dispersed settlement, plot, 2142, report 2142, Report 2142, OAE report 2142
Subjects:
Geographical Areas > English Counties > Suffolk
Period > UK Periods > Bronze Age 2500 - 700 BC
Period > UK Periods > Early Medieval 410 - 1066 AD
Period > UK Periods > Medieval 1066 - 1540 AD
Period > UK Periods > Post Medieval 1540 - 1901 AD
Divisions:
Oxford Archaeology East
Depositing User:

Hamilton

Date Deposited:
03 Sep 2019 11:54
Last Modified:
03 Sep 2019 11:54
URI:
http://eprints.oxfordarchaeology.com/id/eprint/5421
Actions (login required)