Lord, Adele and Blackbourn, Kathryn (2019) Land Adjacent to Land adjacent to 14 Church Road, Wicken, Cambridgeshire. [Client Report] (Unpublished)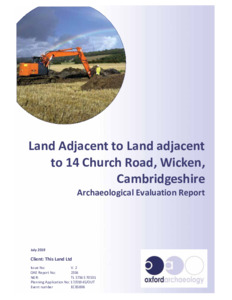 Preview
PDF




OAE_report 2336_WICCHR19_LR.pdf


Available under License Creative Commons Attribution Share Alike.
Download (3MB) | Preview
Abstract
Between the 29th of May and the 5th of June 2019 Oxford Archaeology East undertook an archaeological evaluation at Land adjacent to 14 Church Road, Wicken (TL 57365 70531).
A total of six trenches were excavated, measuring between 11m and 30m in length. All six trenches contained archaeological features, consisting of ditches, gullies and pits dated to the Late Saxon to early medieval period (c. AD 1050-1350). These features appear to relate to a previously unknown area of settlement between the historic core of the village to the west of the site, and the isolated parish church to the east.
Ditches were recorded throughout the six trenches, representing a series of boundaries and/or enclosures, with small ditches and gullies perhaps representing internal divisions or plots within these. Ditches within Trench 1 appear to represent the northern boundary of this site and run parallel to the modern road, which may follow the route of a medieval road. Pits were also present across the northern part of the site, several of which had been backfilled with deposits containing domestic refuse including pottery, animal bone and charred plant remains.
The pottery assemblage comprised 97 sherds, weighing 750g and suggest activity at the site between the Late Saxon and early medieval period. The animal bone assemblage is dominated by cattle and sheep/goat and is typical of the period. Preservation of charred plant remains was relatively good and the presence of cereal grains alongside chaff may indicate on-site crop processing.
Item Type:
Client Report
Uncontrolled Keywords:
Evaluation, evaluation, archaeological evaluation, Cambridgeshire, cambridgeshire, Wicken, wicken, early medieval, Early Medieval, Saxon, saxon, pottery, Pottery, pot, ceramic, sherd, early medieval pottery, Early Medieval pottery, Saxon pottery, saxon pottery, ditch, ditches, boundary, boundary ditch, gully, gullies, settlement, pit, pits, pitting, refuse, midden, domestic, domestic refuse, animal bone, animal bones, bone, bones, animal remains, CPR, cpr, charred plant remains, ecofact, ecofacts, 2336, report 2336, Report 2336, OAE report 2336
Subjects:
Geographical Areas > English Counties > Cambridgeshire
Period > UK Periods > Early Medieval 410 - 1066 AD
Divisions:
Oxford Archaeology East
Depositing User:

Hamilton

Date Deposited:
14 Oct 2019 09:09
Last Modified:
14 Oct 2019 09:09
URI:
http://eprints.oxfordarchaeology.com/id/eprint/5507
Actions (login required)