Davies, Alex Oakley Grove (Phase 2), Harbury Lane,Bishop's Tachbrook. [Client Report] (Unpublished)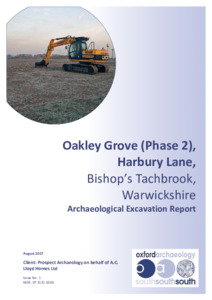 Preview
PDF




BTO16_pdfA.pdf


Download (6MB) | Preview
Abstract
Oxford Archaeology was commissioned by Prospect Archaeology on behalf of A.C. Lloyd Homes Ltd to undertake an archaeological excavation on land at Oakley Grove (Phase 2), Harbury Lane, Bishop's Tachbrook, Warwickshire. This comprised the excavation of nine areas, totalling c 8840m2. In addition, a further six evaluation trenches were opened.
Prehistoric activity was restricted to a cluster of pits and a ditch in Area 4 dated to the middle-late Iron Age on the basis of associated pottery. Environmental samples from these features produced a useful assemblage of charred plant remains and charcoal, especially as the region is noted for a lack of analysed later prehistoric archaeobotanical remains.
Earlier activity in the area was suggested by the discovery of an early Bronze Age barbed-and-tanged arrowhead and two late Mesolithic/early Neolithic bladelets found in an Iron Age pit. No further Bronze Age activity was discovered, despite the presence of an urned early or middle Bronze Age cremation deposit found during the evaluation. The earlier evaluation also discovered two early to middle Saxon pits. No further evidence of this date was uncovered during the present excavation.
A trackway and a number of linear ditches probably relating to field divisions were discovered. The majority did not produce associated artefacts, although most conform to the prevailing orientation of the modern field system. Other features include a number of undated postholes and pits as well as numerous tree-throw holes.
Actions (login required)