Bush, Louise (2019) Neolithic, Bronze Age and Anglo-Saxon remains on land off Hazelend Road, Bishop's Stortford, Hertfordshire. [Client Report] (Unpublished)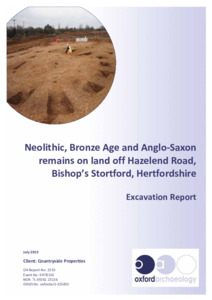 Preview
PDF




OAE_Report_2235_XHTHAZ14_LR.pdf


Available under License Creative Commons Attribution Share Alike.
Download (9MB) | Preview
Abstract
Between the 23rd of January and the 3rd of May 2017 Oxford Archaeology East (OA East) undertook a 5.36ha excavation on land on either side of Hazelend Road, Bishop's Stortford, Hertfordshire (TL 49261 23156). The archaeological works revealed evidence for a Neolithic and Bronze Age landscape, along with a small amount of Anglo-Saxon settlement-related remains.
The earliest activity consisted of tree throws and a series of pits (both in groups and dispersed) containing assemblages of struck flint and Early Neolithic pottery. Several very substantial tree throws were also identified containing a midden-style basal fill which produced large quantities of flint, the largest single assemblage totalling 1,124 pieces. Notably, virtually no flintwork or pottery dating to the Late Neolithic period was found on the site.
The majority of the remains uncovered date from the Bronze Age period. The Early Bronze Age was represented by funerary remains in the form of a 'mini' barrow, urned and unurned cremations and an unusual small sub-rectangular enclosure with ancillary chamber which has been interpreted as some form of shrine or funerary/ceremonial structure. The remnant of a ditched field system was the main feature dating to the Middle Bronze Age, along with two enclosures. It is of interest that the ditches that form this field system appear to respect the Early Bronze Age shrine. Features dating to the Late Bronze Age dominated the site with enclosure ditches, unurned cremations, dispersed small pits, storage pits and posthole structures all being identified. Of particular note was a three-sided enclosure which contained close to 8kg of pottery.
Low-level Anglo-Saxon remains were also recorded on the lower slopes of the site and comprised a highly truncated sunken-feature building (SFB) containing Early-Middle Saxon pottery, fired clay and metalwork. Modern field boundary ditches and a small collection of pits were also identified across the site.
Item Type:
Client Report
Uncontrolled Keywords:
Hertfordshire, hertfordshire, Bishops Stortford, Bishop's Stortford, bishop's stortford, bishops stortford, Neolithic, neolithic, Early Neolithic, early neolithic, Bronze Age, bronze age, Early Bronze Age, early bronze age, Middle Bronze Age, middle bronze age, Early Medieval, early medieval, Anglo-Saxon, anglo-saxon, Pottery, pottery, Neolithic pottery, neolithic pottery, Early Neolithic pottery, early neolithic pottery, Bronze Age pottery, bronze age pottery, Early Bronze Age pottery, early bronze age pottery, Middle Bronze Age pottery, middle bronze age pottery, Early Medieval pottery, early medieval pottery, pot, ceramic, sherd, flint, flints, worked flint, worked flints, lithic, lithics, lithic implement, lithic implements, Neolithic flint, neolithic flint, Early Neolithic flint, early neolithic flint, tree throw, tree throws, cremation, cremations, urned, urned cremation, unurned, unurned cremation, HSR, hsr, human remains, cremated bone, cremated remains, burial, enclosure, funerary structure, ceremonial structure, barrow, field system, agriculture, ditch, ditches, field ditch, field boundary, boundary, boundaries, field boundaries, structure, post hole, posthole, post hole structure, posthole structure, pit, pits, storage, storage pit, storage pits, SFB, sfb, sunken-featured building, sunken featured building, Sunken-Featured Building, Sunken Featured Building, fired clay, metalwork, nial, nails, coin, 2235, report 2235, Report 2235, OAE report 2235
Subjects:
Geographical Areas > English Counties > Hertfordshire
Period > UK Periods > Bronze Age 2500 - 700 BC
Period > UK Periods > Bronze Age 2500 - 700 BC > Early Bronze Age 2500 - 1500 BC
Period > UK Periods > Early Medieval 410 - 1066 AD
Period > UK Periods > Neolithic 4000 - 2200 BC > Early Neolithic 4000 - 3000 BC
Period > UK Periods > Bronze Age 2500 - 700 BC > Middle Bronze Age 1600 - 1,000 BC
Period > UK Periods > Neolithic 4000 - 2200 BC
Divisions:
Oxford Archaeology East
Depositing User:

Hamilton

Date Deposited:
29 Jan 2020 12:42
Last Modified:
29 Jan 2020 12:42
URI:
http://eprints.oxfordarchaeology.com/id/eprint/5683
Actions (login required)