Green, Michael (2014) Canewdon Solar Farm. [Client Report] (Unpublished)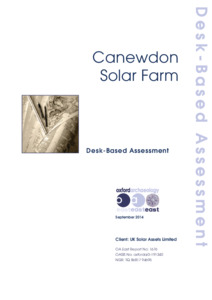 Preview
PDF




XEXCAN14_Report1676_LR.pdf


Available under License Creative Commons Attribution Share Alike.
Download (1MB) | Preview
Abstract
In August 2014 Oxford Archaeology East (OA East) were commissioned by AAH Planning Consultants to undertake a desk-based assessment for an area of land East of Fambridge road, Canewdon. The aim of this report is to assess the presence, nature and extent of any heritage assets likely to be affected by the proposed site development.
The site comprises an area of former agricultural land enclosed by ditches. The current proposal is for a solar farm development on the site.
Cartographic sources were only available from the early 19th century onwards in digital form, which indicate that the site has not been occupied or developed in any way since that time. Although the late 19th century maps depict small boundary changes following enclosure with two east to west ditches, no significant change in land use or development is in evidence.
A study of Essex's Historic Environment Record, which considers the distribution of known finds, listed buildings and archaeological investigations, indicates that no archaeological interventions have taken place within a 500m radius of the site. Investigations further afield have revealed remains from the Roman period. The presence of a possible Red Hill deposit site and associated saltern is of interest, however this is located 500m to the West of the development area. The proximity to the tidal river Crouch (to the North) is also of note as the area may have been utilised for salt production and other activities associated with this environment.
This assessment of the distribution of EHER records, cartographic evidence and historic background in the vicinity of the site indicates that it has a low potential for the survival of archaeological remains. However, the lack of previous investigations in close proximity means that the survival of archaeological remains within the development site cannot be ruled out.
Item Type:
Client Report
Uncontrolled Keywords:
DBA, dba, Desk-Based Assessment, Desk-based Assessment, desk-based assessment, Essex, essex, Canewdon, canewdon, River Crouch, river crouch, salt production, field system, field systems, Solar Farm, solar farm, solar energy, 1676, report 1676, Report 1676, OAE report 1676
Subjects:
Geographical Areas > English Counties > Essex
Period > UK Periods > Iron Age 800 BC - 43 AD
Period > UK Periods > Medieval 1066 - 1540 AD
Divisions:
Oxford Archaeology East
Depositing User:

Hamilton

Date Deposited:
23 Sep 2020 09:20
Last Modified:
23 Sep 2020 09:20
URI:
http://eprints.oxfordarchaeology.com/id/eprint/5771
Actions (login required)