Webb, Robin and Cox, Nicholas (2020) Land to the Rear of No. 79 High Street, Meldreth, Cambridgeshire. [Client Report] (Unpublished)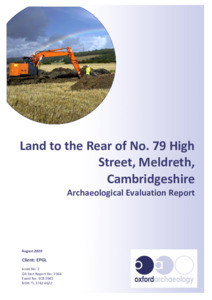 Preview
PDF




OAE_Report 2366_MELHIS19_FINAL_LR_approved.pdf


Available under License Creative Commons Attribution Share Alike.
Download (5MB) | Preview
Abstract
Between the 12th and 14th of August 2019, and the 3rd and 5th March 2020 Oxford Archaeology East conducted two phases of an archaeological evaluation on land to the rear of No. 79 High Street, Meldreth, Cambridgeshire(centred on TL 3742 4622). The proposed development is for the erection of
18 dwellings, together with landscaped open space and the creation of a new access road from the High Street.
The first phase of the evaluation consisted of two trenches along the northern edge of an area of proposed residential development covering c. 1ha in the centre of the village. The second phase consisted of four trenches around the
southern and eastern edges of the development area.
The first phase trenches revealed a layer of alluvium in the north-western corner of the site, adjacent to a small watercourse located beyond the site's western boundary. Archaeological features included a series of north-to-south
and east to west aligned ditches and a small number of discrete features including a post hole and two large pits.
The second phase trenches revealed four pits and three small ditches on north-west to south-east and north to south alignments.
Dateable finds were scarce but included a small quantity of Roman pottery, glass and ceramic building material, all thought to be residual, and a small assemblage of Middle Anglo-Saxon pottery and an iron knife blade of the same
date from two pits in Trench 2. These pits, and several of the ditches, also produced small quantities of animal bone (amphibians, cattle, fish, horse, sheep/goat, pig and bird), and, whilst environmental remains were generally poorly preserved, sampling of several features produced small quantities of charred grain, legumes and weed seeds. One ditch from the second phase produced a large sherd of Roman pottery and a fragment of flue tile, another contained fragments of post-medieval pottery. The majority of features from this phase produced small quantities of animal bone.
Although many of the features recorded remain undated, the pits in Trench 2, and at least some of the ditched boundaries, are thought to relate to Middle Saxon activity, and may be associated with settlement of this date in this part of the village.
Item Type:
Client Report
Uncontrolled Keywords:
Evaluation, evaluation, archaeological evaluation, Cambridgeshire, cambridgeshire, Meldreth, meldreth, Early Medieval, early medieval, Anglo Saxon, Anglo-Saxon, anglo saxon, anglo-saxon, Roman, roman, Post-Medieval, post medieval, Post Medieval, post-medieval, Pottery, pottery, pot, ceramic, sherd, vessel, Early Medieval pottery, early medieval pottery, Anglo Saxon pottery, Anglo-Saxon pottery, anglo saxon pottery, anglo-saxon pottery, Roman pottery, roman pottery, Post-Medieval pottery, post medieval pottery, Post Medieval pottery, post-medieval pottery, pit, ditch, ditches, knife, iron knife, ealry medieval iron knife, CBM, cbm, Ceramic Building Material, ceramic building material, Tile, tile, Tegula, tegula, fragment, animal remains, animal bone, animal bones, bone, bones, legumes, weeds, agriculture, farming, water course, watercourse, 2366, report 2366, Report 2366, OAE report 2366
Subjects:
Geographical Areas > English Counties > Cambridgeshire
Period > UK Periods > Early Medieval 410 - 1066 AD
Period > UK Periods > Post Medieval 1540 - 1901 AD
Period > UK Periods > Roman 43 - 410 AD
Divisions:
Oxford Archaeology East
Depositing User:

Hamilton

Date Deposited:
18 Aug 2020 07:54
Last Modified:
18 Aug 2020 07:54
URI:
http://eprints.oxfordarchaeology.com/id/eprint/5809
Actions (login required)